Buyers are looking for recreational land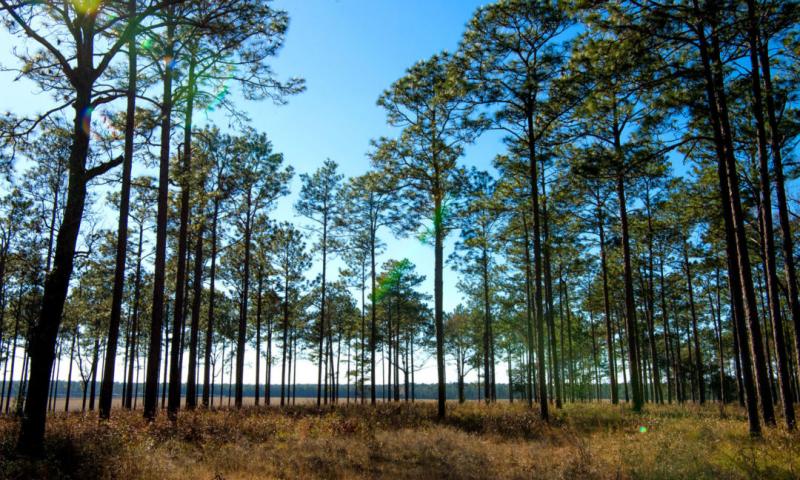 Good news: We checked with land professionals in southwest Georgia and it seems all agree that recreational buyers have returned to the market. That's a sign of economic recovery in our traditional feeder communities (Atlanta, central and south Florida) and holds promise for economic good here as well.
There's just one hitch: Buyers are a little pickier this time around, which means real estate professionals are having a time matching them up with their dream tract. The biggest demand appears to be recreational purpose with some kind of a cash-flow component.
"In the past, for a pure recreational buyer, it didn't matter if it was junk woodland or planted pines," says Brian Wilson, Chief Relationship Manager at Southwest Georgia Farm Credit. "They were buying whatever held the world together." Value was strictly in the eyes of the beholder.
Wilson has seen a lot of ups and downs in his 21 years with the lender. In the last three years, he's noted a significant increase in recreational buyers, but says they are definitely more cautious. The downturn in the economy is still fresh, so they have more of a discerning eye related to cash flow opportunities (timber harvest, pine straw leases, etc.). "People are being smarter with their money," he says.
At the same time, memories of the glory days before the Great Recession are fresh in the seller's mind. In fact, many of today's sellers bought at the height, which makes them reluctant to settle for anything less than what they paid for the property. And there's the rub.
We recently caught up with Matt Bennett, Broker/Owner of Bennett Real Estate Company, after he'd spent a morning cold calling in search of recreational tracts. He says inventory is scarce for what his buyers are seeking. "The stuff that's out there has been out there for a while and it's a little stagnant—either overpriced or just not nice properties," he says. And when he's successful at locating a new seller, they set an unrealistic asking price. "They will sell, but it's not on sale."
Still, Bennett is working diligently to meet the needs of a plentiful supply of prospective buyers, many of whom come from Florida. "I think that hurricane money is starting to flow," he says. Bennett believes the re-building following two years of storm activity has put construction trades back to work and created a cash infusion into areas that have traditionally been a good source for buyers of recreational tracts. Kind of an upside of the hurricane recovery, if you think about it.
When those buyers from further south—Orlando, West Palm Beach, Miami and Tampa—show up at Scott Wilson's office, they've usually done their homework. They might even have a copy of Georgia Outdoor News or Woods 'n Water tucked under an arm, with creased pages that rank counties based on where the biggest bucks were harvested.
Wilson, Broker/Owner of W. Scott Wilson Properties, LLC, says his prospects' searches actually go beyond knowledge of the recreational aspects; they are on the lookout for opportunities that will make sense for them financially as well.
And he's happy to supplement their knowledge, including directing them to sources they might not know about, such as the Conservation Use Valuation Assessment (CUVA) to reduce their tax liability. Through CUVA, certain properties—including agricultural lands, forestlands and environmentally sensitive areas—may be eligible for reduced property tax rates. The local tax assessor's office is generally a good resource for details on the program.
Mike Matre, Matre Forestry Consulting, Inc., has positioned himself as a trusted source of information for both buyers and sellers through his online newsletters. Part technical, part professional commentary, all highly informative, the reports serve as an indicator of sorts for his business: the recent increase in subscriptions are an indication of buyer interest in the region.
Matre doesn't believe there's a lack of inventory, but views it more as a disconnect between buyers and sellers. "The problem I see is even though the market is better, a lot of asking prices seem to be unreasonably above fair market value. So I guess you could say the inventory of reasonably priced property is low."
In a recent newsletter, Matre explained it: "…there is one thing for certain, these days most recreational land buyers are savvy and well informed. The typical buyer of hunting land is willing to pay a reasonable premium for land that suits their recreational needs, but they will strongly consider the income potential of property, the overall supply of available land…and comparable sales data when deciding what to offer."
Thomas Taylor reports that calls and email inquiries have increased at Allied Land & Timber Company, Inc. and they've also experienced a higher volume of sales in the last two years. His company's website recently featured 114 different properties, and he says the highest demand category is smaller acreage for hunting/recreation and investment. But they move fast. "The smaller acreage tracts in our inventory are normally sold quickly if they are priced reflecting the current market value of the property."
Does the same hold true for farms?
On the farmland side, with lower commodity prices, ag landowners aren't buying anything, but they're also not selling. Besides having the working capital to weather storms, farmers have another option: leasing. "They don't necessarily have to stop owning the land; they can still maintain ownership and just rent the production rights to another farmer," says Paxton Poitevint, Chief Operating Officer at Southwest Georgia Farm Credit.
Land rents have been holding steady, according to Matt Bennett. And the farmers that need more land are happy to pay $250 to lease irrigated properties, vs. sinking $4 million into a purchase. "As long as the rents hold, they're good," he says.
Bennett has several investors seeking income-producing farmland, but there's nothing available. Broker Scott Wilson has run into the same challenge. "Very few traded last year and there hasn't been a lot of inventory. Those that did sell were gone before they hit the market."
That's something unique with land sales in southwest Georgia, including hunting/recreational tracts. Sixty percent of what Wilson sells is unlisted property. "For sale" signs are rare.
With the tight inventory and ready competition among recreational buyers, know what you can afford before you begin your search. Southwest Georgia Farm Credit now offers pre-approval online for loans up to $1 million, and in most cases, you'll have your credit decision within four hours.
Ready to start looking? Browse our collection of the region's best property listings.
View All Articles