YIELD: Don't Make These Home Buying Mistakes!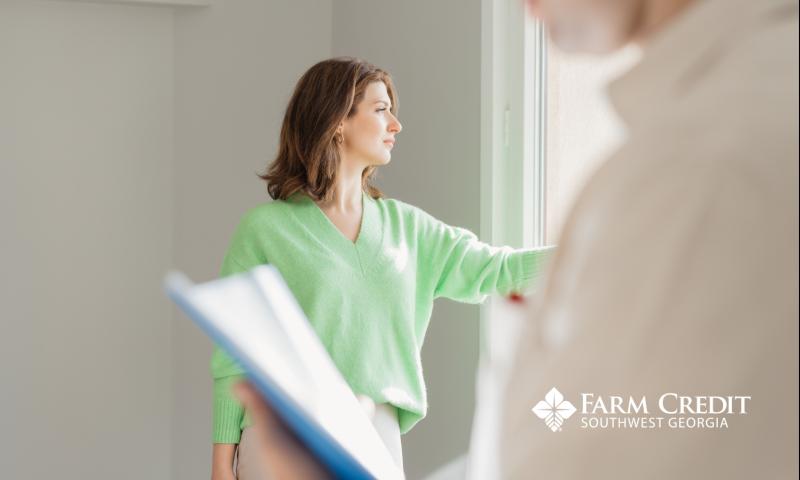 YIELD: Don't Make These Home Buying Mistakes!
So, you're ready to buy a home! Maybe it's your first home—and you're excited and anticipating a smooth process from start to finish!
Not so fast! Things go smoothly with research and preparation! So, let Southwest Georgia Farm Credit Home Loans help you avoid the Top 10 Home Buying Mistakes!
We all love the home flipping and "do it yourself" shows, but you have to be honest with yourself. If the home you want to buy has a considerable DIY list, be sure to not overestimate your skills. Avoid regretting your decision by understanding what you can and can't accomplish on your own, and how much money it will take to reach your goals.

Have a Needs List and a Wants List. Realistically, your budget can only stretch so far. So, knowing, for example, that a home office is a must have, is critically important when you start the home shopping process. Give your wants vs. needs list to your real estate agent, so they can show you properties that fit the bill. Your priorities will be aligned straight from the start.

Don't skip the home inspection! Sure, if you're buying without a loan, skipping the inspection is sometimes an option. But it can be a costly option down the road. A home inspection can you help avoid major repairs. What's more, if there is major work to be done, and you still want the property, you can renegotiate your offer based on the repairs list.

Clueless about your credit score? This can cost you money. You should monitor your credit score as part of understanding your financial picture. "Knowing your credit score can help you when you begin talking with a lender," said Heather Dozier, Residential Loan Officer with Southwest Georgia Farm Credit Home Loans. "Your credit score impacts your interest rate and mortgage terms," she said.

A lowball offer doesn't get you very far. Real estate agents and real estate professionals are very knowledgeable about home prices and can guide you towards an appropriate offer. Use their knowledge to stay in the game and present an offer that is a fair price.

You've heard people say, 'be aware of your surroundings.' This is especially true when you're buying a home. If access to a major airport is important to you, or if you need advanced medical care, get up-to-speed on the infrastructure around you. "It's important to consider future plans, as well," Heather said. "Understand what you want to be close to or far from," she said. "That will help you feel comfortable about your community right from the start."

So, you're thinking about not using a real estate agent? Sure, it might save you some money. But an experienced buyer's agent can help you avoid pitfalls you might not have considered, one of the most important being paperwork and communicating with the sellers and their agents. A real estate professional can help you negotiate offers and conditions, and help you find other professionals you might need during the home buying process—like an attorney. Typically, a real estate agent's fees are part of the closing costs, so you don't pay them out of pocket.

Keep your budget realistic. In other words, don't become house "poor." Overextending yourself can put you in a tough financial situation. Your monthly budget might not be able to afford those things you deem important to your quality of life. So, consider this rule of thumb: your home should not cost more than 30% of your gross monthly income.

Spend a few minutes doing some research. Time equals money, so they say, and in the case of a first-time homebuyer, it's very true! There are many programs to help first time homebuyers—ranging from government or community programs to free classes on homeownership, to grants that help you with your down payment. Visit homebuyer.com to learn more.

Get Pre-Qualified today! "We make the Pre-Qualification process fast and simple," Heather said. "A Pre-Qualification letter lets a Real Estate Agent and a Seller know you are able to purchase the property," Heather said. "It gets you one step closer to buying a home."
Our Expert Team 
Need help getting started? Southwest Georgia Farm Credit Home Loans has the experts ready to get you pre-qualified and started on your home buying journey today. Call 229-493-0921 or Apply Online!

View All Articles