Wiggins, Singletary & Austinson Join SWGA Farm Credit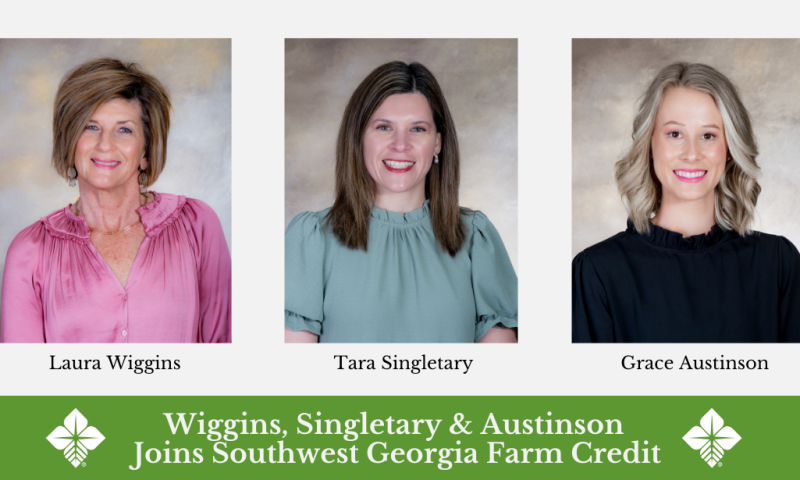 Southwest Georgia Farm Credit is pleased to announce that Laura Wiggins, Tara Singletary and Grace Austinson has joined the team.
Ms. Wiggins, who resides in Buena Vista, joins Farm Credit as a Loan Administrator in the Americus branch.  Laura brings 20 years of experience in the banking industry to her new role.    
"We are happy to welcome Laura to our team," said Mandy Johnson, Director of Loan and Investment Administration and Compliance at Southwest Georgia Farm Credit. "She brings valuable knowledge to her position and has the financial and analytical skills that will help our association continue to serve our clients at an exceptional level."
Ms. Singletary, who resides in Donalsonville, joins the Farm Credit Bainbridge branch as a Client Relations Specialist.  Tara's previous customer service roles and prior experience in accounting and file management will help the association continue to serve its customers at an exceptional level.
Ms. Austinson, who resides in Vada, joins the Farm Credit Bainbridge branch as a Human Resources Associate.  She is a recent graduate of Abraham Baldwin Agricultural College with a Bachelor of Science in business administration.  Grace's customer service experiences and problem solving abilities make her an ideal employee.  In her new role, Austinson will assist with recruitment, retention, and human resources policy matters. 
"We work to attract a diverse team of highly-skilled employees with a broad range of capabilities and experiences," said Paxton Poitevint, President of Southwest Georgia Farm Credit.  "Together, we are stronger and our work towards a common purpose continues – to support agriculture and secure a future for the rural communities in which we serve."
Headquartered in Bainbridge, Georgia, Southwest Georgia Farm Credit supports farmers, farm businesses, and rural property owners, providing safe, sound, dependable financing.  The Association is part of the Farm Credit System, a nationwide network of agricultural and rural lending institutions cooperatively owned by their borrowers.  Farm Credit helps maintain and improve the quality of life in rural America and on the farm, through its constant commitment to competitive lending and expert financial services. 
View All Articles