Making Introductions: Securing the future of your farm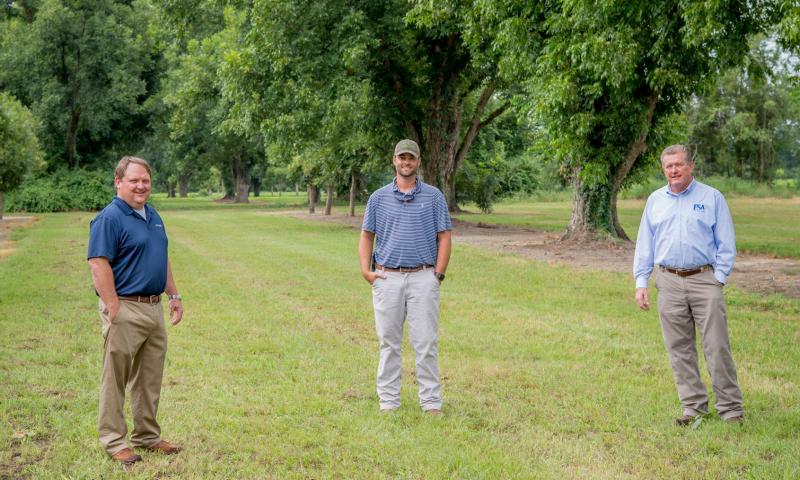 A farmer and his grown son walked into the Farm Service Agency's Moultrie office one day. FSA loan officer Mike Gibbs knew the man and his family, as he'd been making loans to them going back 25 years. The farmer introduced his son, said he'd graduated from college and wanted to go into the farming business. "I told him a good place to start is here," the man said. He told Gibbs he didn't want to influence the conversation, so would wait outside, then turned and walked out.
What the farmer did in that simple act had the potential to secure the future of that family's farm: He was setting up the next generation for success.
"There's not a farmer around who's been farming more than five minutes who doesn't know about the Farm Service Agency," Gibbs said. But what farmers may not have thought about is introducing their potential successors to FSA programs.
"At the USDA, one of our missions is to try to get that next generation to come to the farm," Gibbs said. "I tell them, 'We need you to feed us.'" And yet Gibbs said he understands the many hurdles standing in the way, not the least of which is making the numbers work.
FSA has many programs that can help, but it can be overwhelming to wade through them all, said Southwest Georgia Farm Credit Relationship Manager Brant Harrell. The best thing the current generation can do is introduce their family members to the advisors who have helped them keep the operation going over the years. Their successor will get a free education and be encouraged to dream a little. Once connected, they're more likely to be committed to the idea and follow through.
Money and more
"Don't underestimate the help you can get from the Farm Service Agency programs and those they can refer you to," said Lori Hargrove, Southwest Georgia Farm Credit Client Relations Specialist. She used to work for the FSA and knows their value in getting that next generation up to speed. "These offices not only provide programs for farmers, but for general landowners as well."
For example, through the Natural Resources Conservation Service (NRCS), you can get technical assistance and qualify for grant programs or cost share related to a conservation practice on the farm.
Because FSA has a service center concept—one stop shopping—a new farmer can learn about the numerous programs that provide subsidy payments, free money, all in one place. "If you look at it from my loan officer eye," Gibbs said, "any free money my farmer can get, in theory, can help my farmer meet their obligations."
Meet you halfway
Getting that loan in the first place can be challenging as equity and a good credit track record take time to build. But FSA can help there, too. One solution is the 50/50 program. Gibbs explained: "They can borrow 50% of the purchase price of the farm from us at an extremely low interest rate." The balance would come from another lender, like Southwest Georgia Farm Credit.
The blended interest rate can be very advantageous to a new farmer. It's a partnership that works for everyone. "FSA would allow Farm Credit to have a first lien on the property," he said. "We would have a junior lien."
Gibbs pulled one example from a stack to illustrate. An applicant had first introduced his grandson to Farm Credit Relationship Manager Brant Harrell. After asking a few questions, Harrell knew the grandson was going to need some help qualifying. He checked with Gibbs to see if he was willing to work with him on a 50/50 loan. The grandson met with Gibbs and soon they were pulling the deal together.
Small steps lead to bigger ones
Gibbs described what he has seen work. The son or daughter graduates from a university, or leaves another line of work, and returns to the farm to get started. The current generation carves out part of the operation for the adult child to manage on their own, using the 50/50 program. "They create some equity on the balance sheet, then graduate to the next level and go to a lender and get an FSA guaranteed loan," he said. "It's a natural progression." If the operation is successful, they'll need more capital.
"Our mission is to try to get that person to move to the next step," Gibbs said. "We want to help them succeed."
And they'll have loads of help along the way. For example, with the FSA guaranteed loan, Southwest Georgia Farm Credit handles all of the paperwork. Its seamless between the two lenders and requires no extra work for the borrower.
Wise to have an exit plan
Dean Daniels said he and other Relationship Managers have these types of discussions with their farming customers as often as possible, to get them thinking about their options so they're ready when the timing is right. It's the idea of having an exit plan, which makes good business sense.
"What we're telling them is the more involved the younger person is in the operation, the better," Daniels said. And if that's their plan for five years from now, they should involve them in the financial aspects now. "Give them a small piece of the pie, so they don't look like a deer in the headlights when the time comes."
Using your influence and making introductions is a free gift you can give that next generation of farmers, said Daniels. It's really no different than when a young man walks into a bank and wants a loan to buy a car. "Maybe he can scrape up a down payment, but he just got out of college and is working his first job. But Mom has banked at the bank forever, and she's standing behind him."
The next generation farmer needs to start somewhere and today's farmer has the means to help. "That connection is the way to make it happen," he said.
View All Articles