Tom Griffin Joins Southwest Georgia Farm Credit
BAINBRIDGE – Tom Griffin has joined Southwest Georgia Farm Credit as a Commercial Credit Analyst in the Bainbridge office. In his new role, Tom will work closely with the Association's Relationship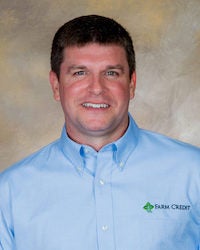 Managers to understand clients' needs and underwrite their loans. Tom joins Southwest Georgia Farm Credit with several years of experience in the Farm Credit System, having worked at AgGeorgia Farm Credit and Farm Credit of Northwest Florida.
Now, Tom will be working where he was born and raised. In fact, he's a graduate of Bainbridge High School. He earned a BS in Agriculture from the University of Georgia. He and his wife, Nancy, are the proud parents of twins, Katie and Anna.
Tom's family attends First Presbyterian Church in Bainbridge, where he serves as an elder.
"We're excited to have Tom join our team. His experience growing up on a farm, and understanding the unique needs of farmers in our area, will be an asset to our members," said Paxton Poitevint, Chief Executive Officer.
Headquartered in Bainbridge, Georgia, Southwest Georgia Farm Credit supports farmers and farm businesses, as well as rural property owners, providing safe, sound, dependable financing. The association is part of the Farm Credit System, a nationwide network of agricultural and rural lending institutions cooperatively owned by their borrowers. Farm Credit helps maintain and improve the quality of life in rural America and on the farm, through its constant commitment to competitive lending and expert financial services.
View All Articles