Taste the Season: Quail Recipes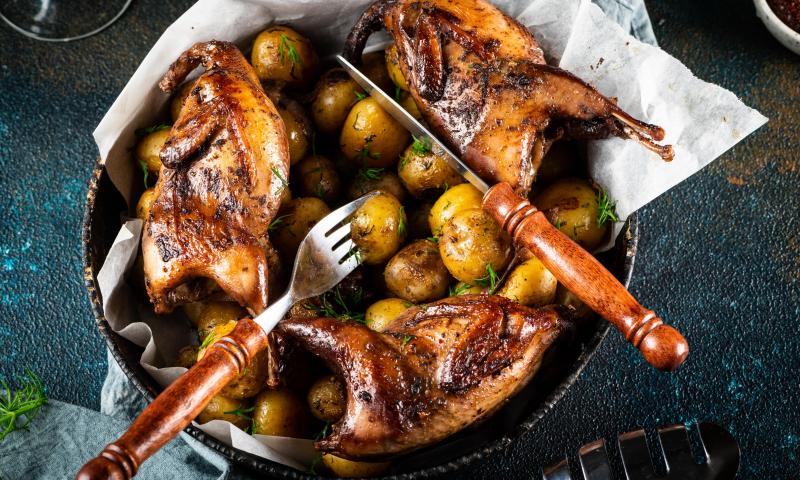 Roasted Quail & Fingerling Potatoes
Ingredients:
4 whole dressed quail
2 small white onions
4-6 branches of fresh rosemary
8-10 fingerling potatoes
Dry mustard
White wine (I suggest Sauvignon Blanc)
Olive Oil
8 garlic cloves
1 tsp Butter, unsalted
Salt & Pepper
Directions:
Preheat the oven to 400 degrees. Cut the onions to 4-6 parts/pieces. Place ¾ of the onions into a roasting pan with 1 tablespoon of olive oil creating a bed of onions. Season the whole quail generously inside and out with salt & pepper and a pinch of dry mustard, then place the rest of the cut onions (divided evenly among the 4 quail), 2 garlic cloves, and a branch of rosemary inside of each quail cavity. Place the quail breast side up on the bed of onions. Bake in the oven for 30 minutes covered and then remove from the oven.
Rub potatoes with olive oil and salt & pepper while quail is baking. Once quail is removed from the oven, add potatoes around the quail topping with remaining rosemary sprigs. Return to the oven uncovered for an additional 25-30 minutes or until the potatoes are soft.
After you remove the roaster from the oven, remove quail and potatoes and set aside. For the sauce, first, deglaze the roaster pan with 1 cup of white wine. In a small saucepan, strain the juice and onions to make the sauce. Add a teaspoon of dry mustard, heat to a light boil, and finish with a teaspoon of butter. Stir well and pour over the quail. Enjoy!
Brined Bacon Wrapped Quail Bites
Ingredients:
1/4 cup of soy sauce
1/4 cup of honey
1 Tbsp of minced garlic
1 Tbsp of ground orange peels (can be replaced with orange juice)
2 Tbsp of olive oil
2 Tbsp of Taylor Dry Sherry
Directions:
After soaking the breasts in the marinade for 6-7 hours, wrap the breast in your favorite bacon and place a toothpick through the center to hold them together. Finally, heat up your charcoal grill until the coals are red hot and cook for 8 minutes on each side. If you are grilling with an electric grill, 300-350 degrees for 8-10 minutes.
Quail's Nest
Ingredients:
2 large potatoes, shredded
1 egg
1/4 cup parmesan cheese, grated
1/4 teaspoon salt to taste
1/4 teaspoon pepper to taste
12 quail eggs
4 sprigs rosemary fresh, optional
Directions:
Preheat oven to 350 F degrees. Grease 4 ramekins really well. In a bowl, mix shredded potatoes, egg, Parmesan cheese, salt, and pepper. Divide the mixture in 4 and fill each ramekin with the shredded potato mixture, and press down in the middle to form a nest. Bake the hash brown nests for about 30 minutes or until crisp and brown. Crack 3 quail eggs in each nest and season with salt and pepper. Bake for an additional 5 minutes or until eggs are cooked to your preference. Arrange rosemary around the edge of the ramekins if preferred.
Tip from the chef: Cracking Quail eggs...a quail egg is leathery and doesn't crack easily-you would likely break the yolk trying. Instead, you need to cut it open. Push the tip of a sharp paring knife into the shell about one-third of the way down from the top, saw gently, and then pull off the top of the shell.
View All Articles