SWGA Farm Credit Blakely Branch Opening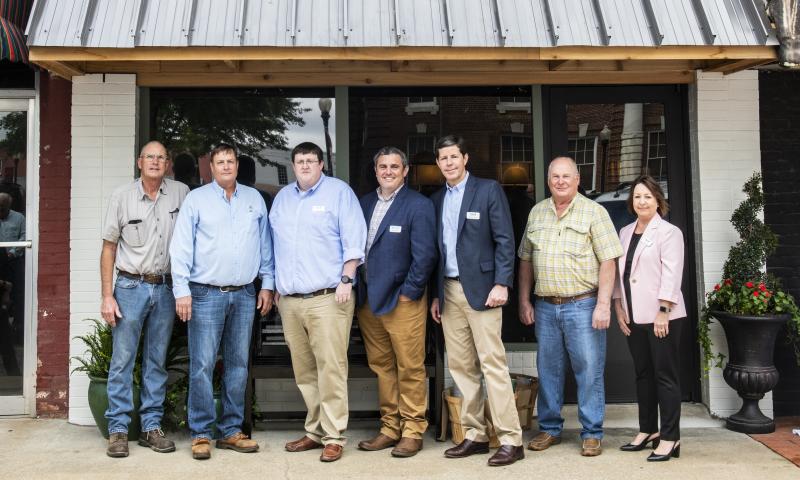 BLAKELY, GA – Southwest Georgia Farm Credit announced the opening of a new office in downtown Blakely. The office, at 14 Court Square, is designed to be a central location for borrowers in the Early and Miller County areas.
"We take great pride in developing long-lasting relationships with the farmers, landowners, and homeowners we do business with," Paxton Poitevint, CEO at Southwest Georgia Farm Credit, said. "Being able to have access to a team of lenders who are nearby is critically important for the farmers we do business with. We've always been part of these communities, but now, we have a presence in the heart of downtown Blakely where borrowers can drop in and have a conversation. We're excited to be able to bring this level of personal service to this area."
Southwest Georgia Farm Credit serves 21 counties, from the Georgia-Florida border to just south of Columbus. For more than a century, the Association has been providing loans for agricultural purposes, farm equipment, recreational properties, and home loans. All of these services will be available to borrowers in the Blakely office.
Matthew Burch, who is a fifth-generation farmer and Relationship Manager at Farm Credit, will staff the location. "Sometimes, it's nice to know that if you have a specific need—either a new financing request, or want to talk about a future project—your lender is nearby," Burch said. "When you think about agriculture, you think about Farm Credit. The advantages for a farmer to finance with Farm Credit are many—not the least of which is that as a cooperative, we return a portion of our profits to those who do business with us."
Burch pointed out that the Association returned $6.4 million in cash in March to its member-owners. "We strive to deliver value by providing both a competitive rate, and return a share of our profits," he said.
Headquartered in Bainbridge, Georgia, Southwest Georgia Farm Credit supports farmers, farm businesses, and rural property owners, providing safe, sound, dependable financing.  The Association is part of the Farm Credit System, a nationwide network of agricultural and rural lending institutions cooperatively owned by their borrowers.  Farm Credit helps maintain and improve the quality of life in rural America and on the farm, through its constant commitment to competitive lending and expert financial services. 
Pictured Left to Right - Director John Bridges, Director Ladon Durham, CFO Ryan Burtt, Relationship Manager Matthew Burch, CEO Paxton Poitevint, CLO Tarrell Bennett, CMO Liz Nogowski
View All Articles