SWGA Farm Credit Announces 2021 Scholarship Recipients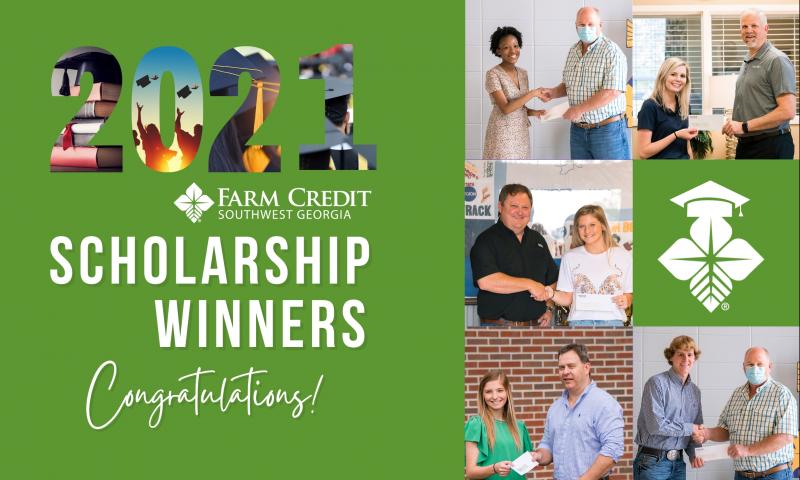 Southwest Georgia Farm Credit is proud to serve farmers, farm businesses and people who live and work in the small towns and communities in southwest Georgia. Agriculture is a way of life here, and for over 100 years, Farm Credit has played an important role in providing a safe, sound, reliable source of credit to rural America.
To help ensure a bright future for rural communities, as well as the agricultural industry, Southwest Georgia Farm Credit presents several scholarship opportunities. This year, the Association added a $2,000 HBCU scholarship to its annual program for the applicant planning to attend a two or four-year HBCU college on a full-time basis.  Farm Credit also offered three $1,000 scholarships, and a $2,000 scholarship to honor the memory of former colleague, Duane Watson. Public, private, and home-schooled students who resided in the Associations' 21-county territory were all eligible.
"We are very proud of all of the students in Southwest Georgia that excel in academics, extracurricular activities, and community service," Paxton Poitevint, the CEO of Southwest Georgia Farm Credit, said. "That so many of our applicants came so highly recommended speaks to the success of our local schools, their mentors and their families.  The winners of Southwest Georgia Farm Credits' various scholarships exemplify leaders on a successful track to make a positive impact in our rural communities.  The vitality of our region relies on this next generation.  We are excited to see what the future holds for these very deserving winners."
Recipients of the 2021 Southwest Georgia Farm Credit scholarships include Ari Patterson of Bainbridge High School, Jade Isler of Baconton Community Charter School, Katie Sheppard of Southwest Georgia Academy, Morgan Kitchens of Southland Academy, and Weston Powell of Bainbridge High School. 
View All Articles