Southwest Georgia Farm Credit Supports Local Farmers' Markets
BAINBRIDGE – Southwest Georgia Farm Credit is now accepting applications for their Fresh from the Farm Program. This program provides a partnership with local farmers' markets by promoting and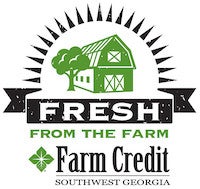 supporting farmers who own/operate produce stands that sell locally grown products.
"We know how much people really enjoy locally grown fruits and vegetables – knowing who grew it and where it was grown," said Brant Harrell, Relationship Manager at Southwest Georgia Farm Credit. "And they know that the best places to find local produce and products are at road side stands, u-pick farms and farmers' markets in their communities."
Southwest Georgia Farm Credit began the Fresh from the Farm Mini-Grant program six years ago as a way to provide cash for marketing and promotions to road side u-picks and farmers' markets. "The Fresh from the Farm program is an opportunity for us to collaborate with those farmers who sell locally grown produce in their communities," Harrell said. Through an application process, the association picks 10 qualifying producers each year and donates $500 to each, mostly for marketing and promotional purposes. Since 2013, Southwest Georgia Farm Credit has awarded 52 grants, providing $26,000 to local, small farmers.
The application for Fresh From the Farm mini-grants can found by contacting Frances Edmunds at 229.493.0140 or by email at fedmunds@SWGAFarmCredit.com.  Completed grant applications can be mailed to Southwest Georgia Farm Credit, Attention: Fresh from the Farm, 305 Colquitt Highway, Bainbridge, GA  39817; emailed to fedmunds@SWGAFarmCredit.com; or faxed to 888.834.9128. Completed applications must be received by April 13, 2018.
View All Articles