Southwest Georgia Farm Credit Offers Scholarships for 2024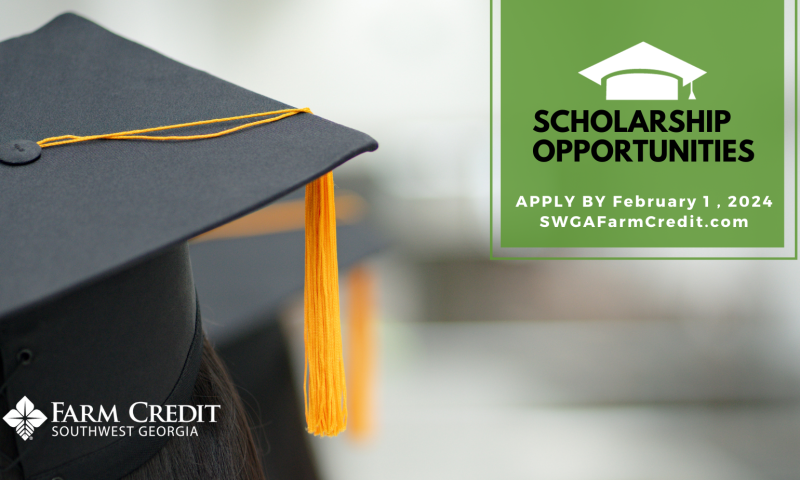 Southwest Georgia Farm Credit is proud to serve farmers, farm businesses, and people who live and work in the small towns and communities in southwest Georgia. Agriculture is a way of life here, and for over 100 years, Farm Credit has played an important role in providing a safe, sound, reliable source of credit to rural America.
To help ensure a bright future for rural communities, as well as the agricultural industry, Southwest Georgia Farm Credit presents several scholarship opportunities. In 2024, the Association will offer two $ 1,500 Farm Credit scholarships, one $2,000 scholarship to honor the memory of former colleague, Duane Watson, and one $2,000 HBCU scholarship to the applicant planning to attend a two or four-year HBCU College on a full-time basis.
The Association is also pleased to announce the addition of a NEW $1500 Technical Scholarship for a student or GED graduate pursuing a certificate, credential, or two-year degree in the following fields: welding, carpentry, construction, plumbing, electrical, HVAC, automotive, transportation, healthcare, etc.
Applicants must be a high school senior and will be required to submit a high school transcript, 2 letters of recommendation, and a two-page essay.  Students must also indicate their primary residence is within the Association's 21-country territory: Baker, Calhoun, Chattahoochee, Clay, Decatur, Dougherty, Early, Grady, Lee, Marion, Miller, Mitchell, Quitman, Randolph, Schley, Seminole, Stewart, Sumter, Terrell, Thomas, Webster.
Have a senior heading to college? Southwest Georgia Farm Credit is proud to offer scholarships that will help your child pursue their dreams. Public, private, and home-schooled students are all eligible. High school seniors must visit the Southwest Georgia Farm Credit website (swgafarmcredit.com) to download an application or contact their high school's guidance office. Completed applications must be received by 5 p.m. on February 1, 2024. Don't let the deadline slip by you!
View All Articles