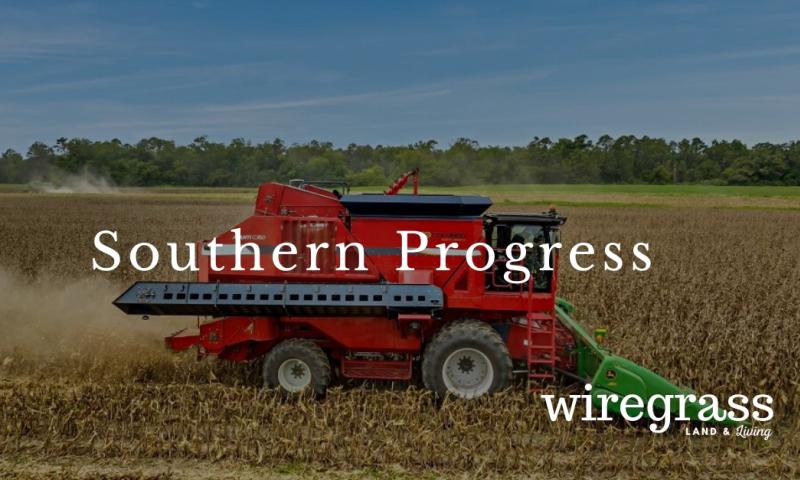 The advancement of society has always been marked by progress in agriculture. Take, for instance, Eli Whitney's cotton gin of 1794 that propelled the American South and the whole world into a thriving industry. In 1831, the United States faced the growing pains of a young nation but also became home to Cyrus McCormick's horse-drawn wheat harvester. Every farmer is also familiar with John Deere's steel plow that he developed in 1873 and how it revolutionized the world of agriculture.
Our time is no different and South Georgia is home to this progress. There's a new sight in the corn fields here and that sight is a bright red and blue Colombo Avanti C360 combine.
"We found that South Georgia was the ideal place for our branch because it is the cradle of the American peanut market," says Leonardo dos Santos, Colombo's chief marketing officer. "We felt really welcomed by the warm, innovation-driven and open-minded farmers we met."
The Colombo story began 49 years ago when five brothers who grew peanuts and edible beans decided to mechanize their harvests, even though there was no way to do that in their country of Brazil at that time. Thus, Colombo was created to manufacture harvesters for peanuts, dry edible beans, and later, coffee. To accommodate their need for materials, Colombo developed a foundry and thermal treatment unit to produce driveshafts, gearboxes and other parts for themselves and other companies.
Colombo exported their bean harvesters to the States and then sent their peanut pickers over in 2005. To better serve farmers, Colombo North America debuted in 2006.
Soon enough, the brainstorming began: What if there was a combine that could harvest multiple crops? Say, instead of a farmer owning a combine for his corn and bean crops and also a picker for his peanuts, the headers could just be changed out to accommodate a different crop?
That's how the Colombo Avanti was born.
Powered by a 9-liter, 360 horsepower John Deere engine and a Claas hydrostatic transmission, the Avanti uses Colombo's proprietary threshing and cleaning systems to harvest peanuts, corn, soybeans and dry edible beans. A hallmark of the Avanti is fewer moving parts, making for easier maintenance. The machine's efficiency also protects the quality of the harvested crop, which would translate into less loose shelled kernels (LSKs) in peanuts.
Brazil was the first country to trial the Avanti before they moved into the States. In 2021, a North Florida farmer picked about 700 acres with one Avanti and dump cart. There are now three Avantis sold in Georgia.
Just as progressive as the machine are the people behind it. One of those people is Adam McLendon, the second-generation farmer of McLendon Acres. They are an 8,200-acre operation specializing in growing corn, cotton and peanuts. Adam was connected to Colombo through Flint Equipment Company, a local John Deere dealership, and then made plans to purchase the Avanti.
And what an exciting purchase it was.
Colombo agreed to run the machine in Adam's corn crop with his John Deere header and make any necessary modifications to the Avanti. It was operating beside a John Deere combine in the same field.
Matthew Burch, a relationship manager at Southwest Georgia Farm Credit, was able to watch the Avanti at Adam's farm in Leary, Georgia. In the same field, a John Deere combine was also harvesting corn.
"The Avanti ran a little slower than the John Deere," Adam also observed. "Speed isn't as much as a concern when you have a machine that can do the work of two separate machines.  We're not looking for it to outperform, just perform efficiently."
Matthew was impressed at how the Colombo team was making improvements while harvesting during the trial.
"Corn is a secondary crop in Brazil and they have a more arid climate," he says. "We here in South Georgia had a higher moisture, and a higher yielding corn crop. They had to make adjustments to keep the corn from stopping up the combine."
Rainy days didn't even halt the work on the Avanti. The Colombo team made changes in the field and during rain breaks. Even the company owner and his son were on hand to oversee.
"This really showed their tremendous dedication." says Adam. "It's amazing how responsive they have been. We are making suggestions that will be put in place on the next generation of Avanti. We're very proud of that."
Adam and his crew advised on grease fitting locations as well as steering wheel and cab air vent positioning. Besides providing comfort to the operators, Colombo is ready to help the harvester run more efficiently.
"Some of the feedback we received and that was also seen in the field by our team is that, for the machine to fully preform at its full potential in the corn harvesting, in terms of ground speed and acres per day, it needs a bigger motor." Leonardo notes. "In the current corn harvest, the machine runs at an average of 3.5 miles per hour while picking 8 rows of corn. That's why, for the following season, we are offering a version equipped with a John Deere 410 horsepower motor."
"Midwestern farmers typically have one combine to harvest their crops. We are different in the South and it takes multiple pieces of equipment to harvest ours." Matthew says. "This is where the Avanti can help. It is a unique piece of machinery that can be a game changer for the corn and peanut industry. It's hard to find skilled labor on the farm also and this machine requires less people to get the job done."
He noted that the high cost of machinery can hinder cash flow and prevent farmers from diversifying their operations. Nearly every South Georgia farmer grows peanuts, but it can be cost prohibitive to venture into the grain markets. With the Avanti, farmers may be able to diversify their crops, extend their rotations and therefore increase peanut yields.
Nevertheless, the Avanti has the knack of bringing people from all over the world together.
"I think that one of the most unique and rewarding aspects of this project has been the insight it offers into the common goals of farming across the globe." Adam reflects. "In a small farming community in southwest Georgia, we are working with teams from Brazil to test a piece of equipment that will help address common challenges that farmers throughout the world experience. I appreciate the opportunity to be a part of it."
The Avanti is available for purchase now. After being on the radar of agriculture for sometime now, many farmers are looking forward to seeing it work in trials, on neighboring farms and, maybe someday, their own as well. Regardless of how we harvest our crops, we can all agree that progress in agriculture is a way forward for our rural communities.
"We all know how labor-intensive growing peanuts is," Adam concludes. "You need multiple people and multiple tractors and pickers. The Avanti is designed to do what two six-row pull-type pickers can do. It's really revolutionary for us."
"This is like when your great-great grandfather moved from a mule to a tractor. We are very privileged to be a part of it."
View All Articles