Big city life in the rearview mirror, rural living ahead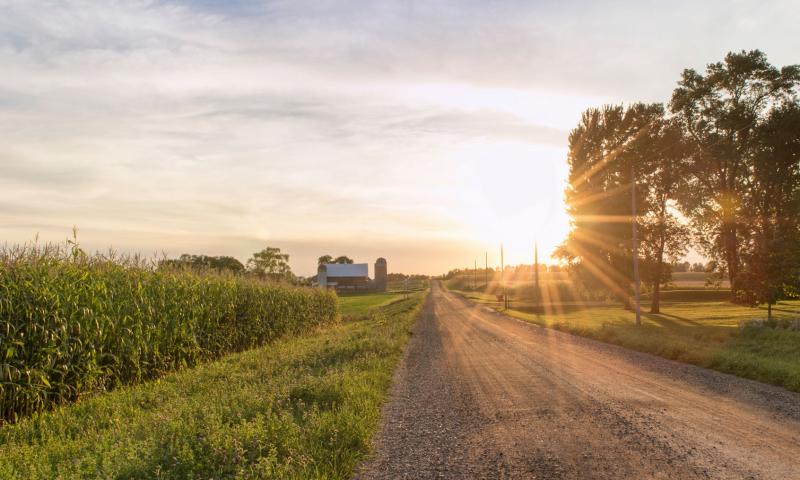 There's nothing like a lockdown to make us appreciate open spaces.
And while initial reports indicate urbanites are fleeing to less populated locales short term, with the re-arrangement of the economy, many permanent moves are expected. It's still too early to gauge how southwest Georgia communities fit into the picture, but if people do head for greener pastures in these parts, they'll find it easy to put down some roots.
Farm Credit Relationship Manager Brian Wilson said the early part of the pandemic brought a lot of calls for 50 to 100-acre tracts, and many callers were from metro areas. "Two things they were looking for: freedom and security," he said. And while not all were seeking self-sustainable/refuge properties, they were definitely seeking a safe haven. "There's something about knowing you have the property and can go there anytime."
Once callers started hearing more about the lifestyle that rural communities offer, Wilson could tell it increased their interest. "It's getting back to the roots as caretaker, Mother Nature's caretaker."
It's why he never left
Employment opportunities have traditionally kept people city-bound, but since the pandemic fast-tracked teleworking arrangements, and more people are working from home, entire families are re-assessing.

Mills Brock recalls almost trading in the country life for the city in his early forties. He grew up in Southwest Georgia, moved away for college and early career opportunities, then returned when he was ready to put his forestry degree to work. "This was home turf for forestry," he said.
When midlife hit and an opportunity to make "really good money" came up, he and his wife talked about relocating to Atlanta. He would have been on the road a lot and thought perhaps he could do it 7 or 8 years, then have more options. But in the end, they stayed in southwest Georgia. "Our kids were at a very impressionable age and it was important to have Mom and Dad around," he said. "So it became more about quality of life with my family than short term hustle."
Now the owner/broker of 3 Rivers Realty in Bainbridge, Brock knows it was the right decision. "It boils down to quality of life, a slower pace. Not slower pace to be lazy, but slower pace because it's healthier for you, better for you, and more satisfying. It's having a life to live vs. living a life to have."
Where you find community
As a native of the Red Hills Region, avid hunter and wildlife photographer, Brian Proctor knows there's no better place for enjoying open spaces than right here in South Georgia and North Florida.
Proctor, a real estate broker with NAI Talcor, said it is not always easy to find acreage that fits the city dweller looking for a starter tract of 25 to 50 or even 1,000 acres. Best of all, buying property doesn't always require a lot of maintenance if you're not using as one's permanent residence. One option would be to lease part of it to a local farming operation where they will do most of the mowing of your roadways and around your out buildings. The hardwood areas will somewhat take care of themselves; and, timberlands might need to be part of a burning program every other year or so depending on the vegetation and the planned use of the woodlands.
There are a lot of property types to choose from, Proctor said. "You've got recreational lands, properties with lakes or ponds; properties with excellent hunting opportunities; land for agricultural purposes, timber operations and investment. You can even plant your own garden and do things you enjoy doing in the outdoors. It's a great retreat and a great escape." Land ownership in this part of the U.S. also comes with perks that midwesterners and northerners especially value, he said: mild winters and "phenomenal" spring times.
And for those who don't use their tract year-round, they quickly learn the value of Southern hospitality. "People still look out after each other's property," Proctor said. "One property owner shared with me that 'I leave my gate open, because my neighbors watch my property. If they see a strange vehicle, they'll call and tell me.'" Proctor said the sense of community comes across in how people are willing to lend a hand, too. "The help is always there."

Millennial attraction
One migration trend worth watching is the millennials on the move. Farm Credit Relationship Manager Billy Billings said his generation has been slow to embrace homeownership, but with more emphasis on telework, many of his peers in other parts of the country are seeking lower cost "work from home" arrangements. And they're looking outside of metro areas.
His 28-year-old fiancé, Katherine Koran, is a good example. When she became a teleworker in September of 2019, she moved from Atlanta to Thomasville. She was able to buy a three-bedroom, two-bath house on an acre of land for the same amount she was spending on an apartment rental in the city. "She has elevated garden boxes and is canning okra and pickles," Billings said. "She has seven chickens that lay an egg a day and I built the coop."
Katherine is saving close to two hours a day not having to commute, Billings said. "She has more energy after work and can go out and do things she enjoys."
Billings suggests that Southwest Georgia is a good choice for the younger generation because of proximity. "We may not have 100
restaurants in a mile, but you can get to metro areas in about an hour's drive. There's Tallahassee or Dothan or Valdosta—those cities have everything except a pro sports team."
Safety and open spaces
Matt Bennett was born and raised in Alabama, but has been in the Red Hills Region 21 years. "It's a pretty special place," he said. Bennett traveled a lot early in his career while playing professional baseball and has also hunted all over the world. "You don't know how good you've got it until you come back."
Bennett grew up in a plantation managing family and has also managed a bobwhite quail preserve. He's now owner/broker of Bennett Real Estate Company, which gives him an even greater appreciation for southwest Georgia. "With our soils, our climate, and water—that's what makes this region such a special place. Because of our dirt, we're able to grow lush pine forest and have highly productive crop land. We've got so much useful ground." In other regions of the country you don't have that, he said, "And their habitat isn't as good."
Bennett credits large landowners for helping to preserve much of the beauty of the region. "It's generations of making the right decision and managing the property," he said. He owns a farm in Boston that's surrounded by plantations. "I feel like I won the lottery, having a couple hundred acres in the middle of quail woods."
There's also the safety factor. Bennett and his family live about 15 minutes outside of Thomasville. "Not everything is perfect here, but I do feel safe going to a Friday night football game, going downtown to eat with my family."
He thinks it's a reflection on the leadership and community-mindedness. "We have good leaders, the mindset here is 'I might not agree with you but we'll agree to disagree and move on.'"
People always talk about wanting to move to a really good neighborhood, Bennett said. "South Georgia is a good neighborhood—it's a big scale, good neighborhood."
Rural Connectedness
With the acceleration of work from home, virtual school, and everything Zoom caused by the pandemic, communities all over the country have been scrambling to beef up their broadband access. Fortunately, the state of Georgia was ahead of the curve through a bold plan launched in January of 2020.
The best news: rural communities are part of the focus.
Through the Partnership For Inclusive Innovation, the State is positioning itself to be "The Technology Capital of the East Coast." The Partnership proposes having 90 percent of Georgians connected by 2025.
"Inclusivity and connectivity are at the core of the Partnership," said Debra Lam, executive director. And that effort "includes focusing on the rural areas of the state—places that often are overlooked as hubs of innovation."
Innovation can be a driver for socio-economic advancement, she said, which is much needed in less populated sections of the state. The Partnership's plan is to start with pilot projects to incubate programs, services and technologies, which should bode well for Southwest Georgia. As city dwellers consider the rural life, it's one more reason to make the move.
By the numbers: The great American migration
So how important is rural America now? Some demographers aren't sure if "The Great American Migration of 2020" is temporary or if there will be a permanent shift in where Americans choose to live. 
The reality? Any place less dense than where they currently live are where Americans are moving—partly due to the pandemic; some for safety; others for work.
Think about it this way—if the small town you're eyeing has a relatively decent coffee shop, a restaurant or two, access to good health care and is within traveling distance of a major metropolitan area, why not consider it?
And, that's not to say that urban life won't return. Consider what happened after the 1918 flu pandemic. The Roaring '20s exploded with a rebuilding of our great American cities.
For now, though, people want their space. They want land and some solitude. They want things to be, well, simpler. As long as they can stay connected.
Need help finding your new place in southwest Georgia? Our team is ready to assist you. Or, you can apply online for a land or home loan in minutes. Really, we're just a phone call, text or click away!
View All Articles