The Red Hills region's quail economy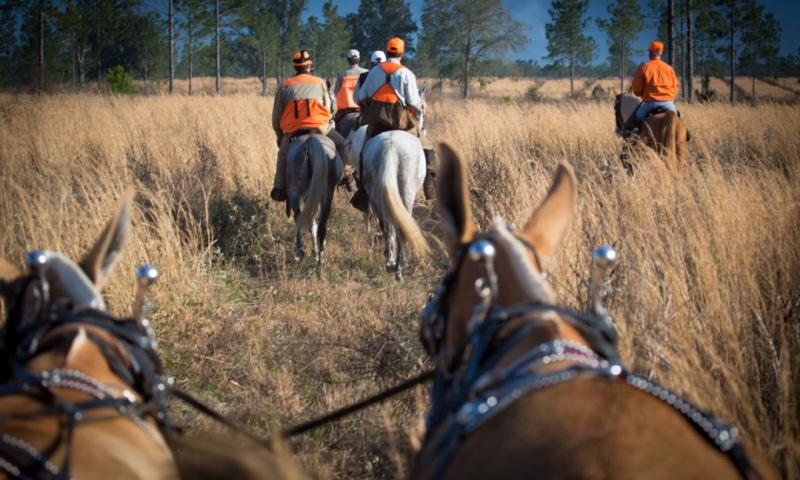 The Red Hills region of southwest Georgia and north Florida is one of America's most distinctive landscapes. Nestled between the Ochlockonee and Aucilla Rivers and the historic main street town of Thomasville, Georgia, and Florida's state capital and vibrant university town of Tallahassee, the region's gently rolling red clay hills are ablaze with wildflowers and native grasses, covered with evergreen pine forests and hardwood hammocks, all teeming with wildlife. Enjoying a bike ride along some of the 300 miles of red clay roads in the Red Hills, you'd never suspect that beneath lies an underground reservoir of fresh drinking water that serves tens of millions of Florida, Georgia, and Alabama residents.
Much of this landscape has retained its natural beauty and distinctive sense of place thanks to the large landowners' twin passions for bobwhite quail hunting and land conservation. Home to more than 135 quail hunting properties, the greater Red Hills spans over 436,000 acres, with more than half held as contiguous quail hunting lands. As of January 2019, approximately 175,000 acres of ecologically rich hunting lands in the Red Hills were permanently protected through conservation easements and other measures.
While the ecological value of the Red Hills is widely known, the economic impact of Red Hills quail hunting has only recently been documented. Working collaboratively with Red Hills quail landowners and the Center for Economic Forecasting and Analysis (CEFA) at Florida State University, Tall Timbers has completed its second analysis of the economic impact of Red Hills quail hunting lands. Tall Timbers surveyed the owners of approximately 407,000 acres of quail hunting lands and received detailed responses from the owners of more than three-quarters of this irreplaceable landscape.
According to CEFA, the total economic impact generated by Red Hills quail lands was $194.1 million in 2017. This includes direct economic impact from operating, capital improvement, and discretionary spending associated with Red Hills quail lands. It also includes indirect and induced economic impact in the many businesses connected to the quail economy. The total economic impact of Red Hills quail lands in 2017 reflects an increase of 32 percent from Tall Timbers' 2012 study of these working lands.
Red Hills quail lands create or support 1,725 jobs, an increase of 21.6 percent compared to Tall Timbers' 2012 study. This includes slightly more than 1,000 direct jobs associated with and dependent upon quail properties. An additional 700 jobs are indirectly related to the economic impact created by Red Hills working lands. These include jobs within the region that supply goods and services to Red Hills hunting properties. The total labor income generated by these 1,725 jobs is an estimated $83.9 million, an increase of more than 63 percent since 2012.
Quail hunting plays an important role in the economies of all Red Hills communities but none more so than Thomas County. In 2017, quail hunting was responsible for an estimated $92.5 million in economic impact, nearly 800 jobs, and $41 million in labor income in Thomas County. Visitors flock to Thomasville during the fall and winter hunting season—a time when the tarmac at Thomasville's regional airport overflows with planes from throughout the South and points farther afield. Airport officials estimate that approximately 95 percent of the 1,700 fights and 6,700 passengers arriving during the months of quail season is related to hunting.
Red Hills quail hunting lands are truly a vital asset to the region's local economies. At the same time, these properties provide bountiful supplies of drinking water, protect the quality of our water supply, and provide habitat for 33 state- and 15 federally listed wildlife species. As they have done for over a century, they continue to sustain a distinctive sense of place cherished by lifelong Red Hills residents and newcomers alike. Tall Timbers believes that working collaboratively with landowners, policy makers, and the business community is essential in order to sustain these vital economic and ecological benefits of the Red Hills region for generations to come.
Neil Fleckenstein, AICP, is the Planning Coordinator at Tall Timbers. The Economic Impact of the Red Hills Region's Quail Hunting Lands is available at talltimbers.org.
View All Articles