Pecans make scrumptious holiday gifts… especially covered in dark chocolate!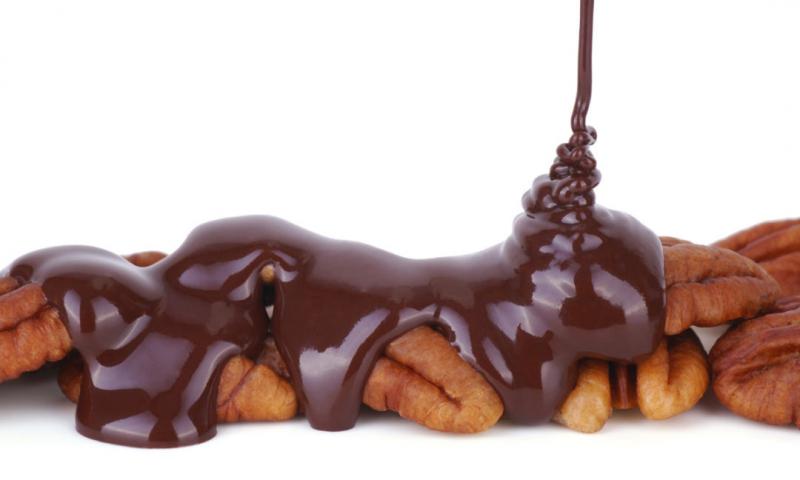 The gift shop smells like a perfect fall day. Located just west of downtown Thomasville and surrounded by pecan trees, Collins Pecans Gift Shop beckons. And it's not just the Southern Pecan Pancake mix, or the beautiful bottles of freshly made syrup, or the chocolate covered nuts that make you want to grab a handful. It's the family tradition you can feel the minute you walk in the door. There's no escaping quality when your name is your brand—which means everything to Joey and Rita Collins.
Joey Collins is the latest in a long line of Georgia pecan farmers who have grown the rich, and distinctive nut in the Thomasville area for generations now. And Rita, his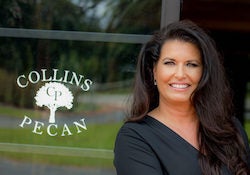 wife of 20 years, keeps the operation running. When the Gift Shop officially opens the second week of October, she manages it, along with the orders from their online store at collinspecan.com. And when she's not helping a customer choose from the endless varieties of beautifully designed gift baskets, she helps area growers as they deliver their nuts to their shop for distribution here in the U.S. and overseas to foreign markets, like China and Australia.
And in her spare time, she owns and manages a bridal boutique in downtown Thomasville. Rita is the definition of an entrepreneur—a woman who sees opportunity and runs right to it.
"I know what I love when I see it and I like to create those kinds of experiences for people who want our products," Rita said. Collins Pecan's corporate gift boxes are a great example of that—a beautiful black box, with an elegant label, filled with everything from fresh pecans to raspberry pepper preserves and dark chocolate pecans.
Oh…and by the way…is it pee-can or puh-cahn? Rita says it's both. And with chocolate on them, pecans are delicious any way you pronounce it!
>> Visit the store: 981 Cairo Road, Thomasville
>> Online: collinspecan.com
>> Hours: Monday-Friday 8 a.m. to 5 p.m., Saturday 8 a.m. to noon
Rita's accomplishments don't end with farmer, business owner, and entrepreneur. She's an accomplished hunter, who has hunted all over the world. In fact, Rita achieved the Turkey World Grand Slam—tagging all 6 subspecies of turkeys in the U.S. and Mexico.
View All Articles