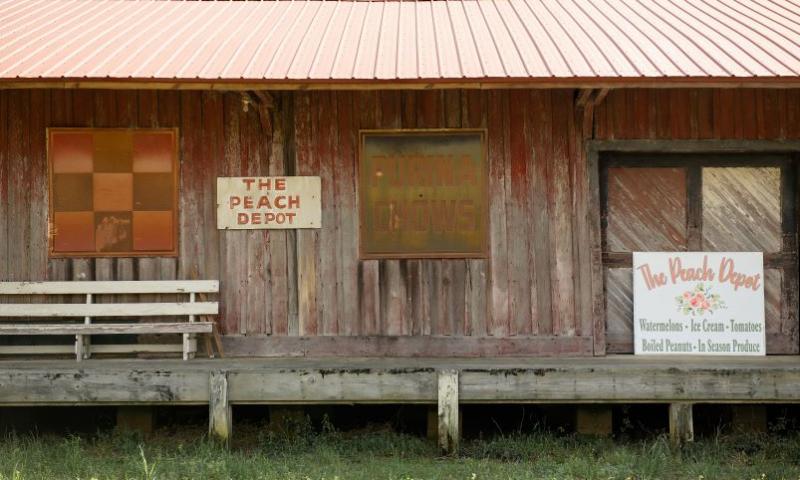 Along Georgia Highway 84 in Iron City sits The Peach Depot, a historic landmark and community staple built for the purpose of providing fresh produce to locals and travelers alike.
The Peach Depot was originally built as a train depot in the 1890'salong the railroad tracks. Today, the building exhibits old-world charm and a patina with a tin roof and original heart pine floors. The Peach Depot, further aged by years of vacancy and hurricanes, will once again open its doors this spring to offer the seasons' ripest fruit, freshest vegetables, homemade peach ice cream, and southern hospitality.
Under new management, The Peach Depot is being operated by Southwest Georgia Farm Credit Appraiser, Vic Hunter, and his growing family. "I was at a baseball game in April of 2021 when Mr. John Emory Trawick, owner, approached us about taking The Depot over," said Vic. "The building is part of my wife's family history. Her elders played a role in helping the business get established when it first opened. Kati worked there as a young child up until she graduated high school."
Vic is no stranger to agriculture. He grew up in a family of produce farmers and has been with Farm Credit for five years. Vic and Kati's combined experience and family ties to The Depot made reviving the business more attractive. "Mr. John Emory trusts us to re-open it, care for it, and run it as he did. We are a family operation. We see the benefit in raising our children (twins Ella and Eden and newborn Luke) in an agricultural environment and teaching them how to earn a dollar while meeting the needs of our neighbors," Vic said.
The Hunter family launched a series of renovations last spring that included updates to the kitchen and plumbing. Their first season ran from May to July 4th. "In our second year, we are focused on growing our operations with the addition of five or more employees. We are eager to grow our customer base and online visibility. We sell a large majority of our products to locals but want to take advantage of opportunities to attract others. Regardless, we intend to create a close bond with our customers and anticipate their needs," said Vic.
With plans to re-open in May, the Hunter family intends to sell peaches, watermelons, cantaloupes, sweet corn, peppers, onions, tomatoes, potatoes, green beans, peas, butter beans, squash, okra, and of course, homemade peach ice cream. "The peaches and homemade ice cream are our number one seller. Our ice cream recipe has not changed in 30 years!"
Although the Hunters plant and harvest some of their product themselves, they also source goods and produce from all over the tristate area, effectively supporting other growers in the region. "The peaches and homemade ice cream are our top sellers. And we know that our originality and family tradition will always keep The Peach Depot in the hearts of everyone that resides in or passes through Iron City."
THE PEACH DEPOT
US-84, Iron City, Georgia
229-254-9967
Facebook:www.facebook.com/ThePeachDepot
View All Articles