Parker Heard keeps winning tradition alive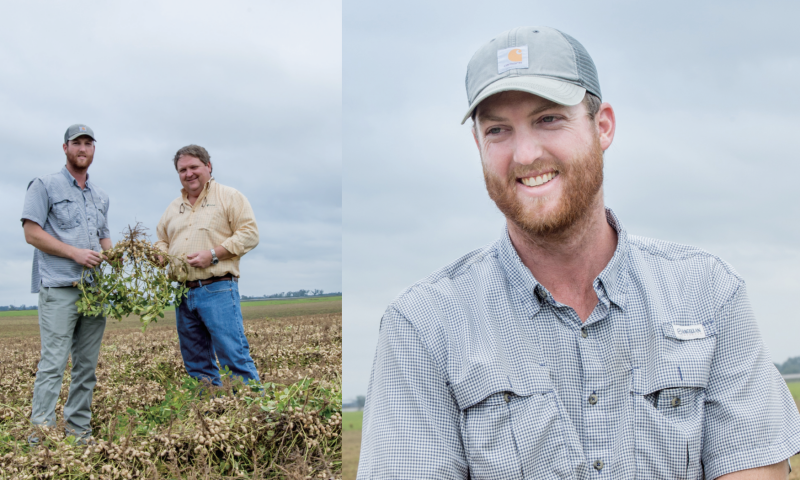 He farms more than 700 acres of peanuts, and in 2019, he yielded 6,292 pounds per acre, making Parker Heard the latest farmer in the Heard family to earn honors as the District II UGA Peanut Achievement Club Award winner.
His father, Glenn has captured the award three times; his grandfather, Mr. R.G. Heard, twice. Now, at 29, and with a lifetime of farming in front of him, Parker Heard is likely to win the award again. And again.
"Parker spends a lot of time in the field," Brant Harrell, Relationship Manager at Southwest Georgia Farm Credit, said. "He does a lot of the work himself. And he's as open minded a person as I've worked with—open to a good conversation and doesn't mind asking questions. He's always seeking to improve his business and his farming techniques."
Standing in his peanut field on a chilly October afternoon, Parker had yet to harvest the entirety of his peanut crop. He wasn't as optimistic about the 2020 crop as he was in 2019. With the wet summer, peanuts were running a little behind usual. And his expectations on yield were conservative, at best.
"There have been some challenges this year, no doubt," Parker said. 
Once the dust settles on the 2020 yield, and Parker takes a much-earned break in between harvesting and planting, he's going to look down the road and evaluate what comes next. 
"I want to get better at doing what we're already doing—trying to maximize what we've already got," he said. "I like to listen to what other farmers are doing—learn from them. I think it's important for any young farmer to take advice from people who have been doing this a long time."
No doubt, Parker's gotten advice from some of the best in the business. It runs in the family.
View All Articles