New Webinar for Young, Beginning, & Small Farmers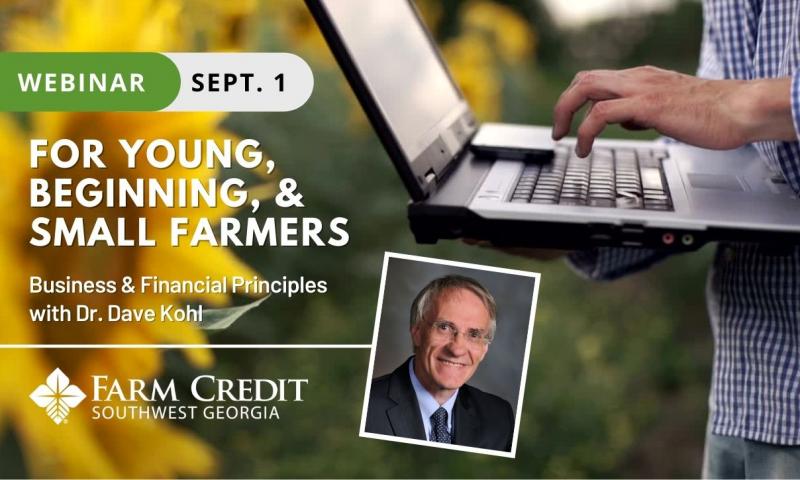 Southwest Georgia Farm Credit is partnering again with agricultural experts to benefit young, beginning, and small operation farmers through an educational webinar. The association will host the online webinar with Dr. Dave Kohl on September 1, 2021 @ 8:30am.
Dr. Kohl has keen insight into the agriculture industry gained through extensive travel, research, and involvement in ag businesses.  He has traveled nearly 10 million miles; conducted more than 7,000 presentations; and published more than 2,500 articles in his career.
"The pandemic has created an economic agricultural roller coaster" says Kohl. "For ag entrepreneurs, the risk and opportunities in agriculture have never been greater. There will be a widening of the profit gap for agricultural producers in the 2020s."
Dr. Kohl will present time-tested fundamental business and financial principles for successful businesses regardless of size, enterprise, geographic location, or stage of the business.  He will discuss the components of business and financial IQ that are required for agricultural businesses to excel and reach their goals. 
Don't miss this opportunity to watch our webinar on your iPad, computer, or mobile device.  Learn and engage with others and identify actions to improve your business acumen on your learning journey.  Register before September 1, 2021 by sending and email to info@swgafarmcredit.com.
Headquartered in Bainbridge, Georgia, Southwest Georgia Farm Credit supports farmers, farm businesses, and rural property owners, providing safe, sound, dependable financing.  The Association is part of the Farm Credit System, a nationwide network of agricultural and rural lending institutions cooperatively owned by their borrowers.  Farm Credit helps maintain and improve the quality of life in rural America and on the farm, through its constant commitment to competitive lending and expert financial services.
View All Articles