Michelle's American Dream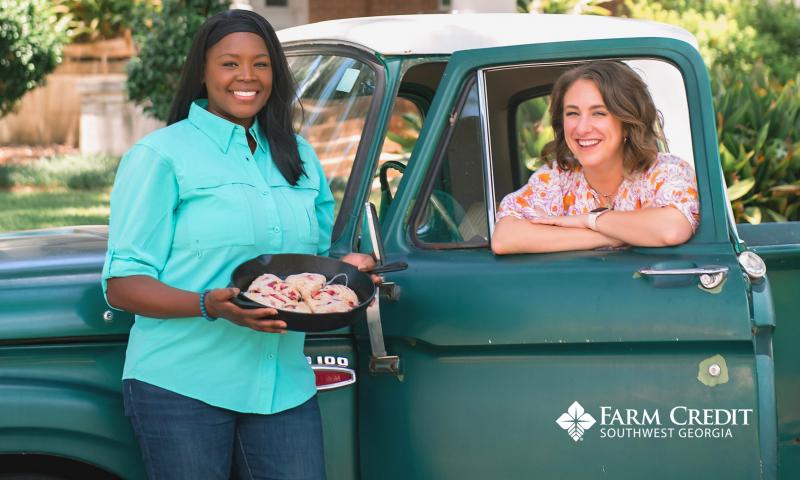 Lifestyle & garden expert, Michelle Burke, is back to share her summer plans!
In case you missed it, Michelle Burke breathed new life into our Spring issue of Wiregrass Land & Living magazine. Introduced as our lifestyle and garden expert, this plant loving, home cooking wife and, homeschooling mother of two, shared her personal journey about starting life out with Southern roots, finding success in the city, and being drawn back to a place and a pace that is more familiar. Audiences fell in love with Michelle just like I did during our first encounter. Undoubtedly, she has a story to tell and we intend on giving her the opportunity to share her enthusiasm for all things simple and southern over the next several issues.
As Michelle and I enjoyed lunch overlooking our charming town square, we shared life stories, discussed interests, and used each as a soundingboard for new ideas. Her passion has a way of igniting a flame within you and her personality is a refuge for creating a space in which to share. The once sleepy small town that surrounded us was humming with chatter, construction and growth. The dreadful veil of seclusion and fear from the pandemic was lifting to a refocused appetite for community development and togetherness. The announcement of a new candy store and a farmers market, a new this and a new that, reminded me of stories my grandparents told me about the good ole' days when rural communities like ours were thriving. The quiet renaissance that had only been an undercurrent for years was now proudly on full display. Hence, our conversation that day recentered time and again on resilience, reconnection, and revival.
When I asked Michelle to share what her ideal family summer would be like, it wasn't that her agenda was groundbreaking as much as it was comfortable and familiar. They would reconnect with friends and family following a year of social distancing. They would make peach ice cream. They would finger paint and play in the water hose to wash off. They would make terrariums and harvest vegetables from the back yard garden. They would visit a local farmer's market and pick sunflowers. And at some point, they would plant their toes in the sand and breathe in the salty air of the Emerald Coast. Yes, they were ready to travel.
What Michelle described to me was the American dream. The life she was getting back to living, the revitalization of our rural region, the investment in local infrastructure, the downtown block parties, the full boat ramps, the crowded neighborhood pools, the smell of charcoal on Saturday afternoons, the summer family reunion—it's all a part of something bigger. And it is something you will find a heck of a lot quicker in small town America where the lines between making a living and living life are blurred. Maybe, just maybe, we are getting back to the way things were, to the way things are meant to be. And it is not a new concept; it is a renewed focus on what matters most.
A Mother's Agenda
Dollar store crafts are real saviors as the temperatures heat up. Hands on activities like coloring, finger painting, sidewalk chalk, puzzles, magnet tiles and Play-Doh keep them busy. Day-time excursions include trips to the local library, nature trails, community playgrounds and u-pick operations.
In the Garden
Michelle and her family will be harvesting peppers, squash, cucumbers, tomatoes, and herbs from their garden all summer long.
In the Kitchen: Farm Fresh Strawberry Scones
Ingredients
2 cups A/P flour
1/2 cup sugar
2 1/2 tsp baking powder
1 tsp cinnamon
1/2 tsp salt
1 stick butter or 1/2 cup butter
1/2 cup for heavy cream +3 tbs for brushing top
1 large egg
2 tsp vanilla extract
1 1/2 cup of chopped fresh strawberries from your local farmers market
Directions
Press dough into an 8-inch disc and cut with a sharp knife into 8 wedges.
Brush scones with remaining heavy cream and for extra crunch, sprinkle with coarse sugar.
Arrange scones 2-3 inches apart on baking sheet and bake for 20-25 minutes at 400.
Simple Vanilla Icing
1 cup confections sugar
2-3 tbs of milk or cream
Splash of vanilla flavor
*Below, Michelle is pictured with Natalie Kirbo - Rural revivalist, serial home rehabber, Airbnb host, real estate agent, blogger, and Ford F100 owner.  Check out her social media page: @goodmorningbainbrigdge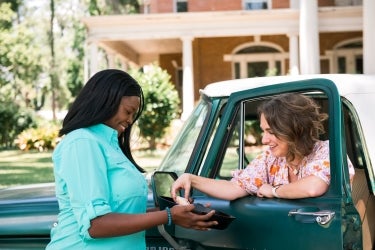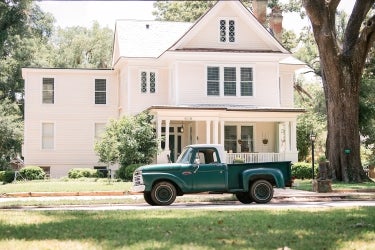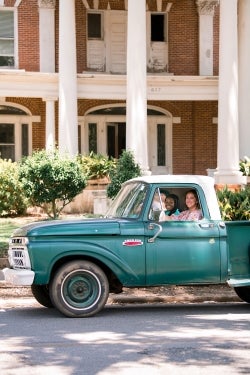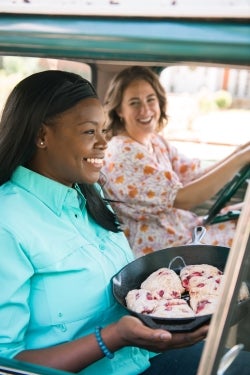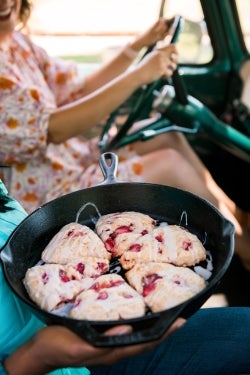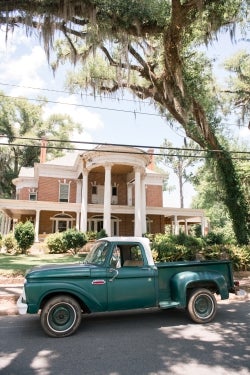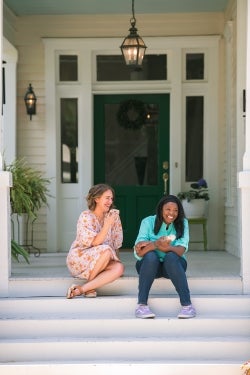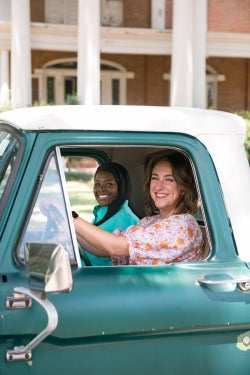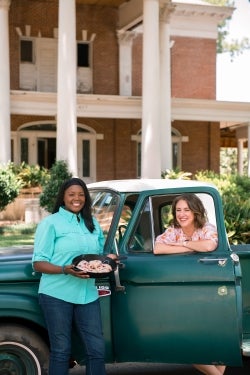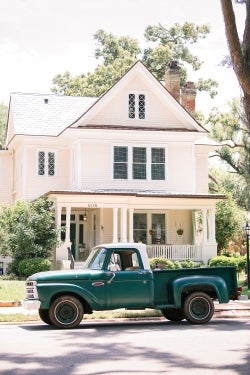 View All Articles