Matthew Burch Joins Southwest Georgia Farm Credit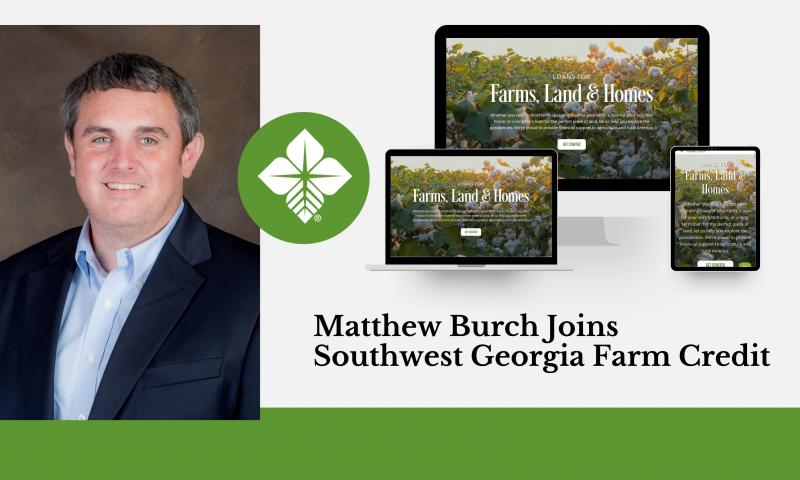 BAINBRIDGE, GA--Southwest Georgia Farm Credit is pleased to announce that Matthew Burch has joined the Association as a Relationship Manager. Mr. Burch has extensive experience as a farmer and crop consultant, and most recently, was involved in crop insurance sales. Mr. Burch hails from a multi-generational farming family in southwest Georgia. His grandfather, Mr. Charlie Burch, served as a member of the Board of Directors at the Association for many years.
"Mathew comes to us with a deep understanding of agriculture in this area," said Tarrell Bennett, Chief Lending Officer at Southwest Georgia Farm Credit. "He has spent his career building a connection to the land, to farmers, and to landowners. And, with his understanding of the financial needs of farmers and agribusinesses, we have no doubt that Matthew will add value with each relationship he develops."
Burch serves as a member of the Board of Directors at Southwest Georgia Academy, Damascus, Georgia, and as president of the Baker County Historical Society. He and his wife, Shannon, and their two daughters, Shelbie and Macie, attend Arlington Baptist Church.  
Headquartered in Bainbridge, Georgia, Southwest Georgia Farm Credit supports farmers, farm businesses, and rural property owners, providing safe, sound, dependable financing.  The Association is part of the Farm Credit System, a nationwide network of agricultural and rural lending institutions cooperatively owned by their borrowers.  Farm Credit helps maintain and improve the quality of life in rural America and on the farm, through its constant commitment to competitive lending and expert financial services. 
View All Articles