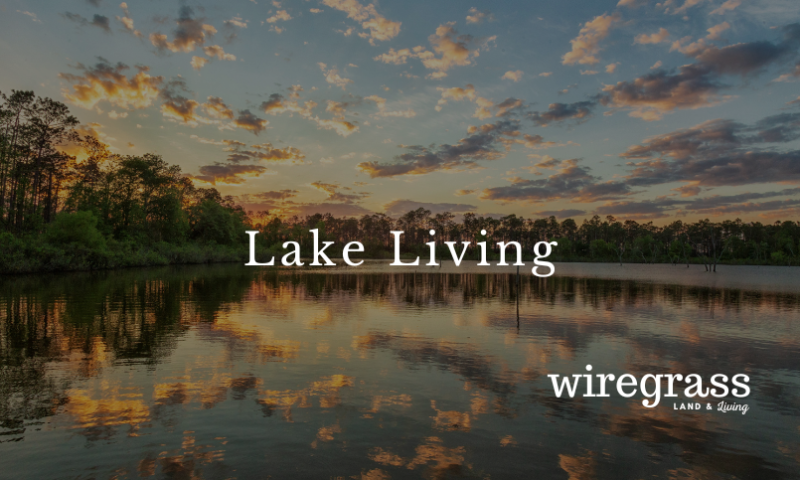 As South Georgians, we are privileged to live in places that have as many stories attached to the land as Cypress knees in the marshes. Lake Seminole is one big story that has affected the lives of locals for generations. From the Red Bluff pines just north of Bainbridge that helped form the Brooklyn Bridge to the ghost tales of flooded cabins told around campfires, this region is steeped in tradition and the stories of those before us.
Lake Seminole, named for the Seminole Native Americans pushed into Florida by Andrew Jackson, is a 37,500-acre reservoir that boasts 376 miles of shoreline. It's a haven for sportsmen, families who enjoy watersports, and anyone with an affinity for laid-back living and the outdoors.
But Lake Seminole hasn't always been the thriving lakefront community with top-class hunting and fishing as we know it today. In fact, there hasn't always been a lake. For many years, this area was an almost uninhabited marshland frequented only by wildlife.
But out here on this ageless land, that is only recent history. On the banks of the Chattahoochee, out on a place called the West Bank Overlook, a village from 1400 AD was excavated. Below that, the explorers discovered artifacts from 300 to 100 BC, and below that, pottery and tools from 1200 BC. Even more layers of human history led them to items dated to about 6,000 years ago.
In the early 1800s, the United States Army constructed Fort Scott on the banks of the Flint River near the modern-day Wingate's Lunker Lodge as an added protection for settlers unnerved by the local Creek Native Americans. It became a mainstay in the First Seminole War and was the site of the Scott Massacre. But just as mosquitoes plagued the British before them, the Fort Scott residents were forced to decamp to Camp Recovery, located on higher ground, to survive malaria and other illnesses.
Time marched on and, with it, the river water was harnessed. The historic Spring Creek Powerhouse and Dam were constructed. Later, the Jim Woodruff Dam was built as part of a series of dams. It is located where the Flint and Chattahoochee waters connected with Spring Creek to form the Apalachicola River. Spanish explorer Hernando DeSoto once visited the bluffs made by the massive amount of water flowing through here. After World War II, citizens needed more electricity, and the Woodruff Dam was outfitted to produce hydroelectric power through pumps nestled under the waters of Lake Seminole.
In 1958, with the construction of the Jim Woodruff Dam, the US Army Corps of Engineers flooded the land.
The water swept over the remains of Fort Scott and flooded the timber that was part of the Sealy Plantation, a modern Tara from Gone with the Wind, whose owner opposed the flooding in court. The water rushed over the excavated Native American burial mounds and pooled against the ancient cypress trees. And, finally, Lake Seminole was born.
"I've been here since 1977," says local Steve Dickman. "I love the fishing and just the primordial aspect of it. We've got nearly 38,000 acres of water and flooded timber and wildlife. It's just a great place to bring the family."
A property owner on the lake for 41 years, Steve is the backbone behind the Stewards of Lake Seminole group, a 501(c)(3) nonprofit.
"We saw a real need to do something different…and we need to manage resources better for the stakeholders here," explains Steve. "We are an active organization, focused on making improvements for everyone — owners, fishermen, everyone. The lake is a precious resource…and we want to preserve and enhance the lake for everyone."
Some of the management concerns include hydrilla, Cuban bulrush grass, and other invasive species. While most people have heard of the hydrilla problem, the Cuban bulrush, populated with seeds brought by Hurricane Michael, is also a major hindrance to lake accessibility. But there's a plan.
"The Stewards of Lake Seminole work in harmony with the Corps of Engineers. We don't take problems without solutions. Property owners and businesses also have skin in the game with sponsorships. This reflects the importance to the Corps, state and federal governments. When their constituents put money in, they're more likely to give funding."
Representative Gerald Greene and Senator Sam Watson have also been instrumental in accessing this funding. After positive results from sending mailers and accepting sponsorships, the Stewards of Lake Seminole have more projects to improve the lake community underway. This includes retrieving fallen trees from waterways and eradicating harmful grasses.
"When you look at our logo," says Steve, "it's a father and son or grandfather and grandson, however, you want to perceive it, it shows us that the future is really in our hands."
With another funding goal in sight, the Stewards of Lake Seminole is a true benefit to the community.
Another group protecting the lake for everyone on it is the Department of Natural Resources. Game Warden Seth May is a true advocate for the area.
"The locals come here to fish and we have people travel from all over the country to come here. Just two weeks ago, I met a guy from Texas who came to fish," he says.
Besides the usual bass, crappie, and bluegill, Lake Seminole is home to the Redhorse Suckerfish, a Georgia native freshwater bottom feeder. The lake is the only body of water where you can legally fish for them using a gill net and this requires a commercial fishing license. But filleted, cut thin and fried, the Redhorse is worth the experience.
Crystal Hines, Executive Director of the Convention and Visitors Bureau of Bainbridge, knows firsthand how fish can bring people together. She is the local point of contact for fishing tournament directors and the BASS Masters staff and she is responsible for coordinating additional events with the tournaments.
"[Lake Seminole] is one of their top lakes to fish!" Crystal reports. "They will tell you that Seminole is difficult to fish but so worth it. Many asked for Seminole to become an annual stop of the Elite Tour…There is a lot of energy in the crowd and it's cool to see anglers you have watched on TV in person."
These tournaments attract spectators and competitors from all over as well, adding to the lake economy.
"By hosting a tournament as large as the BASS Masters, we see the direct local return of sales and hotel tax revenue. The field of anglers and their staff both supported our local economy by shopping, dining, and staying in our area." Crystal says.
Hunting is also a boost to local businesses and a big part of life on the lake. "This is the place to hunt every season," Seth May notes.
"There are people who come from Louisiana, Mississippi, and the Carolinas for deer season on the public land. Not everyone can afford to go to Arkansas for duck hunting, and we have people visiting from as far off as Maryland for that. Lake Seminole is sometimes called the Duck Hunting Capital of Georgia. It's part of the Atlantic Flyway. This is where migrating birds come down from Canada or even the Arctic Circle. There are about five different patterns and we are a major stopover in the South for many duck species."
The 2022 early teal season came in September for two weeks, followed by a 2-week season at the end of November and then a season from December 10 to January 29.
"We have Redheads, Canvasbacks, Blue and Green Teals, and Ringnecks. There's even a Muscovy duck resident at the Bainbridge boat basin. Lake Seminole is attractive to ducks because it's a shallow lake. The food ducks eat, like grass, crustaceans, snails, they're all very accessible to the ducks." Seth continues.
If you're up for an intense hunting experience, Lake Seminole is popular for alligator hunting. Out of about 600 tags offered for Georgia alligators, Seth estimates about 220 were for Lake Seminole.
"We were just out there the other day and saw a bunch of gators, probably about 15. I'd say there were 12 over 8 feet and 3 or 4 over 11 feet." Seth says.
Many people are still also rightly concerned about the lingering effects of Hurricane Michael on the lake. On October 10, 2018, Hurricane Michael hit the Florida panhandle and traveled north toward Georgia. Unfortunately, Lake Seminole took a direct hit from this Category 5 storm. Widespread power outages, wind and tornado damage, localized flooding, and fallen trees made life and travel on the lake difficult. The high winds also pushed up piles of hydrilla on the lake, adding to the problem of accessibility. At the time, U.S. Army Corps of Engineers Public Affairs Specialist Lance Davis estimated that over 70 percent of the timber and habitat was destroyed. Many long-time Lake Seminole residents also mourned the loss of the large oak trees.
But, according to Seth, the best is still yet to come.
"The Corps of Engineers has been working really hard to get the logs off the lake. We are really seeing the landscape returning to an early successional stage, which is normal after any large weather event. A lot of land is getting back to being conducive for hunting and that usually takes three to four years after a hurricane. This was a natural weather event; it would have happened whether we were here or not. But the key is that the land is managed properly afterward."
Seminole State Park in Donalsonville, Georgia is another place with management goals in place to provide a fun-filled camping experience or a day on the water. There is a lagoon and sandy beach with picnic sites, camper spots, cottages, and shelters to reserve for a visit. Canoes and kayaks can also be rented.
Hiking trails like the Gopher Tortoise Trail are also a major attraction. Signs of the long-ago turpentine industry can be seen by the "cat's faces," or notches, carved into some of the older trees on the property. Visitors also come to admire the especially vivid sunsets this state park is known for.
Some people even, just simply, want to stay.
Mills Brock, the owner of 3 Rivers Realty, has been in the forest industry and real estate business since 1995. In his career, he has seen how the high quality of life, Southern hospitality, and outdoor activities bring people to Lake Seminole.
"The lake area has seen quite a bit more new construction in the last two years than in the previous decade," he says. "Areas fronting on the main body of the lake- Spring Creek Drive, Seminole Shore, Booster Club Road, Sealy Point- have always been popular with new buyers, as you can imagine. The 'miles wide' views are hard to compete with. However, most of the new construction has taken place in areas that are on bodies of water that are off the main lake- Hickory, Turkey Pond, Ray's Lake- but they do have boat access to the lake."
Mills mentions that updated homes in move-in-ready condition typically don't stay on the market very long here.
Richard Hinners of Lake Seminole Realty lives on the lake and has seen a similar boom here. He notes that the selling points of Lake Seminole are the fact that the lake doesn't flood and the water level is consistent due to the three rivers and the dam. It's also in a prime location with close access to the towns of Donalsonville, Chattahoochee, Bainbridge, and Quincy.
Another positive of lake living is the relaxed atmosphere.
"The lake is 80 percent dedicated to wildlife management areas and bird sanctuaries. This translates into only 20 percent of the shoreline that can be developed for residential purposes. It is not your typical 'recreational' lake that is round, noisy, and busy." Richard says.
Jordan Gilbert's family definitely knows the benefits of life on the lake. She has been a Farm Credit team member for six years and is now a Residential Loan Officer.
"My parents purchased our lake house in 1999," Jordan explains. "They wanted a place for us to get away as a family, but still close enough to our primary residence as my two brothers and I were very involved in sports and other activities. My parents knew if they purchased a vacation home further away, we'd likely not get to enjoy it as often. We spend almost every weekend of the summer at the lake. And I now have two boys who get to enjoy it too. Over almost 25 years, we have made lots of memories and had lots of fun times enjoying our lake house. It even has its own name 'Poitevint Point of View.' My family enjoys boating and fishing during the summertime and duck hunting in the winter. We spend most of our days out on 'the big lake,' floating and swimming."
Jordan recommends Seminole State Park for family activities and driving your car (or boat) to Big Jim's Oyster Bar for a meal.
"It's our little getaway, it's a place to make memories and a place we call our home away from home!" Jordan concludes.
There are many stories just like Jordan's and, undoubtedly, there will be many more to come. Lake Seminole and its land have had a fascinating past with its own stories, from the Spanish explorers to the once-thriving turpentine industry to a great recovery from Hurricane Michael. But the future of the lake is as bright as the sunsets on the big water and there are many more stories yet to be made.
READY FOR A HOME ON LAKE SEMINOLE?
Southwest Georgia Farm Credit specializes in home and property loans customized to fit your needs. "The C2P [construction-to-permanent] product is wonderful because you can have your construction financing and long-term financing all in one closing," explains Jordan Gilbert, Residential Loan Officer at Southwest Georgia Farm Credit. "That's locking your interest rate up front and it is locked throughout your entire construction phase and, of course, for the life of the loan. The other great thing about the C2P products is we can offer up to 90 percent financing on second homes and 95 percent on a primary residence."
View All Articles