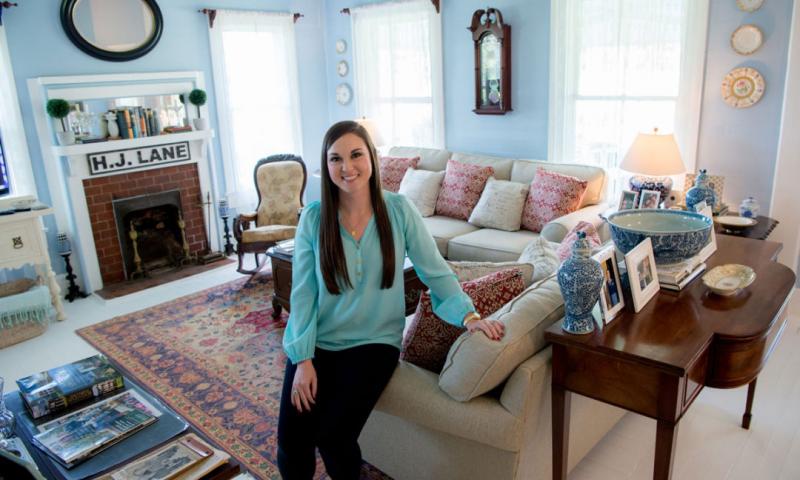 THIS SOUTHWEST GEORGIA HOME IS ALL CHARM
When a home means more than just a roof overhead, the tales that come from the people who live there are sometimes happy, sometimes sad, but always from the heart.
To Hallie Jones Lane, an old historic, in need of love house isn't something to be dismissed. In fact, with some determination, and a little—make that a lot—of work, a house can quickly turn into a home—more beautiful than you could imagine! Case in point, this little southern shotgun home in Weston, built by Hallie's great-great grandparents, Terrell Brooks Jones and Clara Chambliss Jones, and  later passed on to Hallie's great aunt, Ann Jones Kelley.
In the fall of 2017, Hallie and her brother were approached by her great aunt, Ann, to purchase the home. With a baby on the way, her brother decided the timing wasn't quite right for him to take on the project. Hallie was faced with the decision of honoring her family's legacy, and keeping the "family home" in the family.
"It's been in our family for over 116 years, and I just didn't want to be the generation to mess that up," Hallie said, "I couldn't bear to think someone else was going to buy it and tear it down." So, with the support of her husband, Mac Lane, Hallie decided to be the fifth generation owner and bought the house in November of 2017.
Being a full-time radiology tech gave Hallie little time to work on the home, but she didn't let that keep her from giving this old home "new life." Most everything in the home is original, and it didn't take major reconstruction for Hallie to restore it as she remembered it as a child. With some interior decorating skills—her dream job has always been to be an interior decorator—she was able to combine her own style while keeping the heritage of what the home once was.
While the renovation was hard work, it certainly paid off. Besides having a gorgeous and deeply storied home, it is her weekend escape; a place to gather at the holidays; and most importantly, where she keeps the Jones family tradition alive.
Buying a home? Farm Credit can help. Our home loan process is easy and personal. You'll understand why financing your home the Farm Credit way simply makes sense. Contact Jordan Gilbert at jgilbert@swgafarmcredit.com or 229.220.9857
View All Articles