The Heart and Soul of a Hunter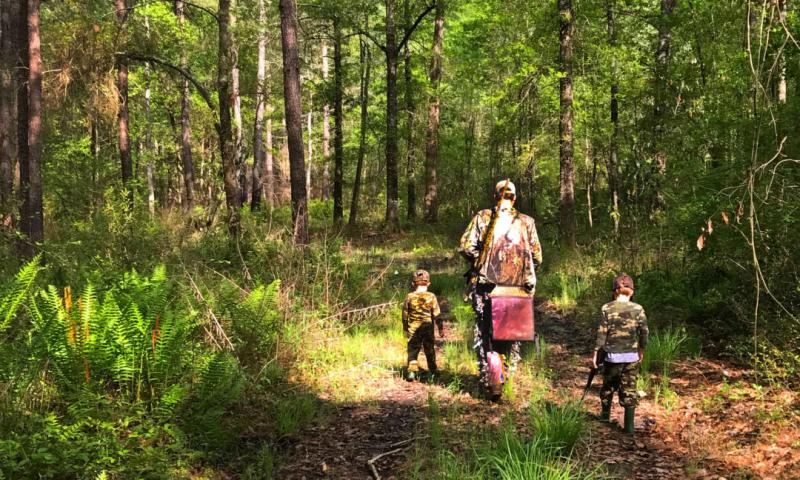 I believe hunters owe it to themselves to try to understand what it is that urges them out. To fail to examine the source of the hunting instinct is to fail to experience it fully. 
— Charles Fergus, The Upland Equation
It was a Sunday afternoon this past March, on youth turkey hunting weekend. Jay Joiner and two of his sons were somewhere in the woods of Cotton, Georgia. They'd set out a strutter decoy and hen, then camouflaged themselves about ten yards back. Seven-year-old Hudson and five-year-old Jackson were in their father's lap. Joiner had been using his slate call to purr and cluck and then made a yelp with his mouth call. They heard a gobble and he whispered, "Boys, here they come."
Minutes later four jakes came running in. Hudson, who was holding a smaller size, single shot .410, aimed and pulled on the child-size trigger. Two turkeys fell.
The exhilaration was still in Joiner's voice in the telling of the story, which had a postscript. As he celebrated his son's accomplishment, Joiner could hear a big tom gobbling behind him. "I went back and got him a couple of weeks later," he said. Then added with a laugh, "By myself, for the record."
Even those who have never held a shotgun or rifle will likely appreciate Joiner's story. But few will stop to consider that moments like Hudson's two-turkeys-with-one-shot can be years in the making.
There's the land investment or lease; time and money spent on careful cultivation of the habitat; purchasing or borrowing the right gear including clothing and firearms; safety education; hunting licenses, and more time identifying strut paths days or weeks before the hunt.
And that doesn't even take into consideration the personal sacrifice on the day of the adventure. That's the question we sought to answer: What compels an otherwise sane individual to wake up long before dawn, drive to a remote location and sit still for hours on end—often in silence and frequently in freezing temperatures or rain—for an opportunity to bring home a turkey, deer or duck? And to do this week after week, year after year, frequently missing holiday get togethers, football games, and family celebrations.
"I think it's the unknown," Joiner volunteered. "You get up and go get in the deer stand and see what shows up." When you call a turkey, you're wondering, "Is that turkey going to have an 8-inch beard or 12-inch beard? Will it be a 3- or 4-year-old bird or is he a jake?"
For Brant Harrell, a Relationship Manager here at Farm Credit, it's a lot about the camaraderie. "Some of the best memories I've had are from times spent at a deer camp, in an old tent, freezing to death with my buddies," he said. Some of the deepest laughter he's enjoyed was on a hunting weekend, too. "And if you think you've had a good conversation with someone, have a second conversation on a tailgate of a truck after a quail shoot."
It's also quality family time for many. Harrell's oldest daughter, 14-year-old Payton, joined him and his father on a dove shoot recently. "It was three generations in the field together," he said. And it's an experience he'll never forget.
Start 'em young
For many in Southwest Georgia, discovery of the hunting life started in childhood. C. Martin "Marty" Wood, III has been a hunter for 70 of his 76 years. "From the time I was a little boy, I read everything I could about hunting, fishing and trapping," he said. One of his favorite characters was Natty Bumppo, the fictional hero of the American wilderness in James Fenimore Cooper's Leatherstocking Tales. "I developed a love for the wild places."
Wood has hunted all over the world, but said there's plenty of wildlife on the tracts he hunts on the southwest Georgia/Florida border. "I'm lucky to have a wife that loves it, too. I could have never done what I do without an understanding and supportive wife."
Like many committed hunters, Wood and his wife, Daphne, are helping to preserve North American landscapes through conservation, education and management. Much of their support has been through Tall Timbers, Ducks Unlimited and the Boone & Crocket Club.
And they continue to apply what they've learned from these and other organizations. While it was once rare to see turkey or deer tracks, careful habitat management has restored them. "We have lots of turkey and lots of wild quail now," Wood said. They've also seen cougars, bears and coyote in the fields, plus plenty of waterfowl on their duck ponds.
Reverence for the sport
Jay Joiner was born on a farm in Cotton, Georgia (Mitchell County) and said his father gave him an appreciation for hunting at a young age. "I used to be so excited to be with my dad. I remember the smell of freshly plowed peanuts and watching nature evolve as it wakes up in the morning." There's a certain holiness about it, he said. "You can't separate that from Jesus Christ, in my opinion."
The hunting life is a way to build character, integrity and stewardship, Joiner said. "It takes hard work, it takes getting up early, staying late, battling the heat in turkey season. Battling gnats and wearing snake boots when it's 82 degrees in the afternoon." All of that prepares a person for what life throws at them. "Things don't come easily in life," he said. "If it's worth a lot, you have to work hard for it." That's something he wants to pass along to his sons through hunting.
L. "Monty" Lewis Jr. said his grandfathers taught him how to hunt and fish. They had lived through the Depression and supplemented what the family was eating through hunting. They impressed that responsibility on their grandson. "So growing up, I didn't pull the trigger unless I was going to eat that squirrel or rabbit, or whatever I was after," Lewis said.
Lewis lives on a Grady County farm that's been in his family since the 1860s and hunts frequently in the region. He's hunted duck, quail, dove, deer, turkey "and the occasional wayward hogs." If you include fishing and trapping predators, he's engaged in some form of hunting 12 months a year. He's also enjoyed African game hunting and continues to challenge himself. In fact, gator hunting is a new passion.
Preservation of the hunting lifestyle is also a priority for Lewis. He's spent more than 40 years serving in some capacity on behalf of conservation and has observed that sharing an appreciation for the shooting sports has a tendency to break down walls and forge fast friendships.
"Even people who are mega busy and mega successful, when it comes to talking about personal passions, they take time for that," he said. "It might mean giving away their hard-earned personal funds, but they always find time."
Solitude and sanity in the wild
Even as hunters talk about how much their sport means to them, at times it just defies description. "Feelings I have enjoyed over the years sitting in duck blind in the cold, when the first ducks break the horizon," Harrell said. "Or watching a dove flitter into a peanut field. Or even witnessing a deer just appear out of nowhere." How do you put those feelings into words?
Some will be surprised to hear that what drives a person to hunt isn't always about the harvest. Harrell said he enjoys the solitude of hunting alone and observing the surroundings. "It's just you and whatever's in the woods." It's like answering a call within, and it changes you. "If I've sat in a deer stand for an hour, when I come home I think I'm a better husband, a better daddy, a better co-worker to other employees. You realize there's something there that's bigger than you."
Marty Wood has enjoyed similar experiences. "The wild and free gives me personal time to sit amongst nature and just think." He's not just sitting watch over a food plot to shoot a buck. In that quiet time observing nature—from rabbits to bobcats—he's able to disengage his attention from work. It's rejuvenating, often in a tangible way. One of the pivotal financing solutions for Flowers Industries, where Wood was Chief Financial Officer for 22 years, was conceived in a deer stand, he said.
In many ways, hunting is an antidote to whatever ails you. Said Harrell, "My wife, bless her heart, she knows me well enough that now I can tell her, 'It's just on me. I got to go to the woods.'" It can be therapeutic and life altering, he added. "I think the best qualities you can imagine in a person can be honed a little bit by spending some time outdoors hunting."
View All Articles