Grow Your Knowledge - Farm Credit University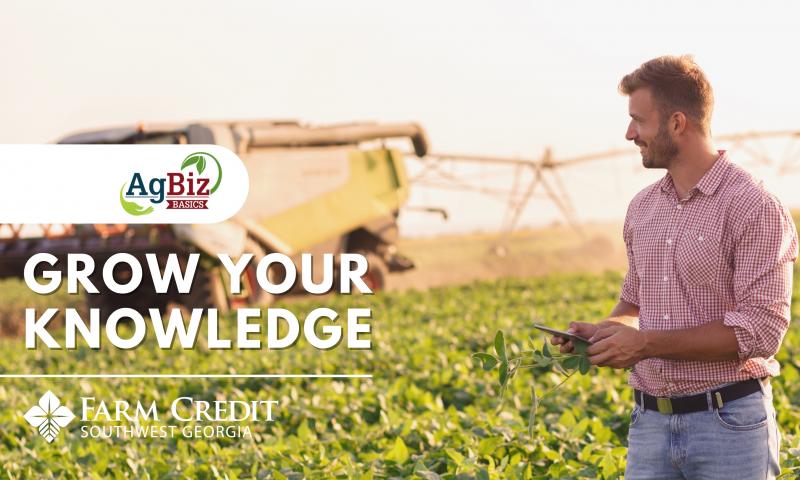 Whether you've been working in the fields for years or you're new to the industry, Farm Credit University has courses to help you succeed.
Southwest Georgia Farm Credit is pleased to offer this online course through Farm Credit University for individuals who are thinking about, or in the beginning stages of starting a farming operation. This fast-paced online program is designed to help participants develop an understanding of basic financial statements, credit scores, cash flow, and how these things impact their current or future farm. AgBiz Basics also prepares participants to meet with a lender. This program can be taken at any time during the year. This program is mobile friendly.
Module Topics
 Side by side with your lender
 Planning, goal setting and financial documentation
 Do you cash flow?
The Business Side of Production Planning
 What are you worth financially?
 Business and personal balance sheets
 Did you make a profit?
 Income statement
Time Commitment
The AgBiz Basics content can be completed in approximately three to four hours total. Additional time spent on workbook applications, including goal setting and financial statement construction, will vary.
Who Can Take AgBiz Basics?
AgBiz Basics participants will be young, beginning and small farmers in southwest Georgia. Participants will farm and reside within Southwest Georgia Farm Credit's territory. Participants do not have to be members of Southwest Georgia Farm Credit to take the class.
$200/login. They can register on the FCU website: www.FCUniversity.com
AgBiz Planner
Designed for individuals who are already farming, AgBiz Planner offers an in-depth six month, college-level online program focusing on the things farmers need to know to successfully manage their operations. The 10 online modules cover various topics such as strategic business planning, preparing financial statements, and growth and transition management.
Want to learn more? Contact Anna Kinchen at AKinchen@SWGAFarmCredit.com.
Financial assistance is available.
Need a copy of our Farm Transition Workbook?
Is farm transition planning in your future? This workbook is intended to give you a structure for starting to think about your goals for your family and operation. Hopefully, it can be used as a conversation starter! Email us at Info@SWGAFarmCredit.com for your free copy.
View All Articles