The glory of a field trial dog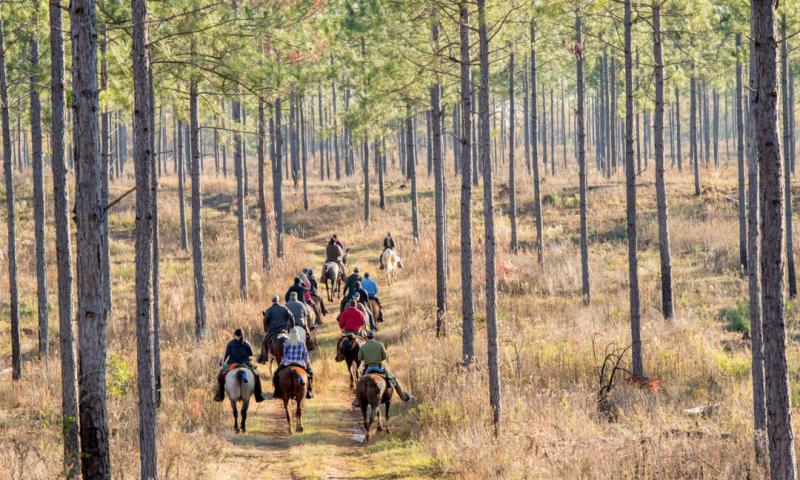 "…the sport of quail shooting has reached its highest development on the great quail plantations of the Thomasville-Albany, Georgia and Tallahassee, Florida sections. These plantations . . . are among the oldest and most highly developed shooting places in the deep Southeast. While some of these properties have splendid wild-turkey shooting, the interest of the owners has always been primarily in the quail, the grandest game bird of all."           The Georgia Florida Field Trial Club 1916-1948 book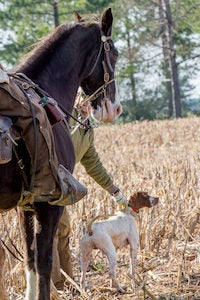 There is a certain awe in Larron Copeland's voice when he talks about the day his orange and white English Pointer, Showtime Sam Houston, earned the esteem of his namesake.
It was a chilly and overcast day in January 2019. The Continental Field Trial Club's All-Age Championship event was in its second week at the historic Dixie Plantation, a 7,500-acre authentic wild quail habitat, where the competition has been held for about 80 of its 125 years.
For those unfamiliar with the sport, Dixie's website offers a bit of background: "Field Trialing is a competition to display a bird dog's ability to successfully find and point coveys of quail. While riding on horseback, dog handlers, judges, officials and a gallery of spectators follow the dogs that run along designated courses. The sport began in 1874, near Memphis, Tennessee, with a group of nine men competing to settle the claims of who had the best bird dog."
The odds were against Copeland going into the Continental that day: He was an amateur field trialer in an event stacked with pros, and he was an owner/handler who trained dogs and competed while running his own farming operation. Most of the other dogs at this level were handled by full-time trainers or retirees.
And on this particular day, Copeland wasn't feeling so great.
But he had worked Sam that morning and it felt way different from the previous year when the dog just didn't have the pop and Copeland pulled him out. "I knew how capable he was, and it had to be the right course," he said. When he received the call back for finals at last year's event, though, Copeland sensed this was going to be it.
Dog and handler stood knee deep in a patch of wiregrass. Sam's qualifying event had been a one-hour heat, but in the finals he faced one hour and fifty minutes; this would be a true test of the dog's stamina. As Copeland's hand gripped the fluorescent orange collar, he could see Sam's lean body quivering in anticipation of finding birds. "I said a prayer and turned him loose," Copeland said.
For nearly two hours, Sam gave it his best: He was quick and accurate in locating coveys, he pointed, and held his position. He and Copeland worked together like seasoned dance partners and—most important—the judges didn't miss the show.
Called by competition
Larron Copeland was hooked on the sport of field trialing from an early age. He's hunted quail since he was a boy, had his first pointing dog when he was 12, and started competing around the age of 20. He traveled outside of the state to observe the pros and get better. "I picked up on the things I thought would work," he said.
One of the things he learned was that dog and handler need to have a relationship. "I didn't know that to start with," he said. "I thought you just make them mechanical. But that's totally wrong. You've got to bond with them, get to know each other, and they need to know what you expect."
One of the earliest field trials Copeland competed in was the Lee County Field Trial Club of Dixie Trace, part of the Amateur Field Trial Clubs of America. It was held in the same location for 50 years, until the property owner died. The club was going to lose access to the site, so Copeland offered his Showtime Plantation, in Bronwood, Ga. This past December was Showtime's 10th year hosting. Copeland also hosts a Youth Field Trial, usually held the following weekend.
Sown into the soil
Copeland has deep roots at Showtime; he was born on the property almost 60 years ago. His grandfather started with 30 acres in 1949. Copeland bought the original acreage from his father, and started acquiring tracts around it. He now has 2,000 acres that touch, most of it planted fields and timber land. For the annual field trial competition, he arranged to use adjoining properties, so courses can cover up to 5,000 acres.
Early one Saturday last December, a parade of trucks hauling fifth wheel horse trailers crept through Showtime headed for the horse barn. The 2019 trial had been delayed due to two days of solid rain.
Clouds like fresh-picked cotton blocked the sun, but otherwise it was clear and about 51 degrees. The club ran heats that morning and around noon, Copeland, wearing blue jeans, tan leather chaps, brown vest, and his trademark black cowboy hat, rounded everyone up for a prayer before lunch.
Breaking bread together is a field trial tradition. Copeland and his wife, Laura, have a cottage by the barn they call "The Field Trial House," where a group of about 25 enjoyed a farm-to-table style lunch. Someone was setting up a stage on the grounds next door for the live music planned for later that evening.
Beyond four paws
As much as field trialing sounds like competition to pick the best dog, it's not just about the canines. Because the events take place over a matter of days, participants forge strong friendships. The hosting community offers hospitality by providing horse paddocks, pasture, and overnight parking for campers. In addition to the camaraderie, there's a little horse trading going on and lots of trade secrets shared.
The sport attracts both men and women competitors, young and old, and for many it's a family sport, even if only one member competes, as in Copeland's case. Competitors as well as spectators for the day had come from Tennessee, Louisiana, Central Florida and Alabama. Teams were also expected from the Midwest, and up and down the east coast.
Field trials can include any number of pointing dogs—English Setters, German Shorthaired, Weimaraners or Brittanys. But the lion's share are English Pointers, Copeland said. The names that owners give their dogs incite curiosity: Shadow's Bee Sting, Touch's Blue Knight, Rester's Cowboy Bill, and Southern Bear Necessity, among them.
Woods and rider
Being a dog handler requires skill beyond dog training, too. "You have to be a good horseman and a good woodsmen," Copeland said. Imagine traipsing across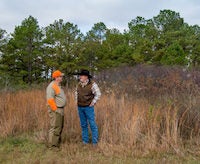 unknown territory on a horse, winding your way through thick brush, dodging rattle snakes and gopher holes, inadvertently flushing quail or other wildlife, and hoping your horse doesn't bolt. Then perhaps focusing so much on your dog's performance that you suddenly have no idea how to get back to the barn.
Even if you're not a competitor, field trialing is an easy sport to love. There's something magical about observing the agility and natural instincts of a pointer like Sam, as he slices through wiregrass, bounds over logs, and suddenly freezes, then creeps and freezes again, tail erect—statue perfect—his body sinewy and taut, and muscles in his legs slightly quivering, anticipating the flush of the covey and gunshot.
The last heat of the field trial at Showtime that Saturday took the teams and gallery past the Copeland's cabin, which doubles as a trophy room. Inside, numerous plaques line the walls and there are several original oil paintings of canines from Copeland's past. After telling a little about each one, he said, "You usually have one good dog in a lifetime. The could-go-in-anywhere type of dog. I've had four 'once in a lifetime' dogs. I've been blessed."
In one framed photograph, Showtime Sam Houston is standing statue still again, tail erect, this time supported by a handler in the classic field trial photo pose. Copeland and his wife Laura are standing behind him, surrounded by some of the sport's finest at the 2019 Continental event.
Also in the photograph is a giant silver bowl—the Emmy Award equivalent in their world—that would soon be engraved with Sam's name. It's that connection to history that is so special to Copeland. "I look at that trophy and see the winners over the last 125 years and my dog is one of them," he said. The awe has returned to his voice. "He will be there from now on."
View All Articles