Fresh from the Farm Mini-Grants Awarded to 10 Area Markets
BAINBRIDGE – There's no doubt that people want to know the origins of their food and that includes looking for locally grown produce in their communities. That's why Southwest Georgia Farm Credit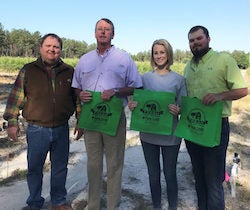 began the Fresh from the Farm Mini-Grant program six years ago.
"We've seen an increase in interest across our communities for locally grown fruits and vegetables," said Brant Harrell, Relationship Manager at Southwest Georgia Farm Credit. "As a result, there are new produce stands opening as well as expansion to some of the established farmers' markets."
The Fresh from the Farm program provides cash for grant recipients to enhance their marketing and promotions, like buying ads or developing a website and social media presence.
Harrell noted that the association received 19 applications this year, which included seven first-time applicants. The 10 recipients selected each received a $500 mini-grant and 250 reusable shopping bags.  Grant recipients include: Bell's Stop and Shop Produce Stand, Preston; Farmers' Market, Blakely; Flint River Fresh, Albany; Sisters Produce and More, Bronwood; Jenkins Produce, Albany; Johnson Produce, Donalsonville; Just 4 Girls Farms, LLC, Bainbridge; Mark's Melon Patch, Dawson; Randolph Collective, Shellman; and Calamint Farms, Milford.
Headquartered in Bainbridge, Georgia, Southwest Georgia Farm Credit supports farmers and farm businesses, as well as rural property owners, providing safe, sound, dependable financing. The association is part of the Farm Credit System, a nationwide network of agricultural and rural lending institutions cooperatively owned by their borrowers. Farm Credit helps maintain and improve the quality of life in rural America and on the farm, through its constant commitment to competitive lending and expert financial services.
View All Articles