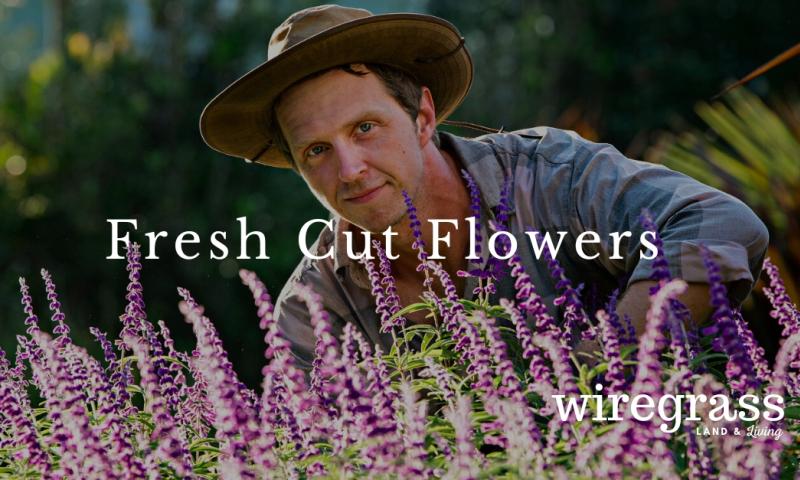 Skyscrapers. Bustling street corners. Urban opportunities. Metropolitan personalities. International flights. Full agendas. Technology. These are all components of what many consider to be the pinnacle of one's life and career. Objects of desire and defining vistas of success. But what happens when you are in your thirties and you cannot enjoy the quiet for the noise? You can't see the trees for the buildings? You can't have downtime for overtime? And you just can't stomach another weekend in the same urban social setting? You divert from your natural habits and draining routines to find joy in shopping for small house plants from city markets. And little did you know at that time, where that explosion of interest would lead you.
"In retrospect, I fundamentally needed to recharge my batteries and reconnect with nature," says Brantley Jones. "I was living this transient lifestyle and splitting my time between New York City, Los Angeles, and Spain." Upon graduating from NYU with an MBA in filmmaking, Brantley spent ten years as a freelance artist on the go. "Dreaming and imagining are essential and having that novelty experience was important to my growth."
In his last days as a film editor, Jones created small business docuseries for Google. "I spent hours in front of a screen and missed opportunities in my life to document the opportunities others had seized." Almost in opposition to the career he had pursued so passionately, Jones began to spend most of his spare time weaving in and out of plant shops and farmers' markets amassing hordes of small plants to add to his high-rise apartment collection. And when he wasn't doing that, he was "back home."
Brantley Jones was born and raised in Grady County on a quiet homestead acquired by his great-grandfather following the Civil War. Jones recalls thinking of his time down south as a retreat. "I unplugged from all that was draining me and began to find the allure of where I was rooted and what I grew from." After all, there exists a song that claims Georgia never leaves your mind.
He spoke about that pivotal shift that so many millennials are currently experiencing. "We broke the chain of heritage but now we want it back. We threaded the needle with the internet, social media, and automation. You could argue there is something both beautiful and toxic about it. As incredible as it is, it will not solve all of our problems nor will it fulfill us. What is best for business and convenience is not always best for mental health."
Brantley Jones believes that millennials are now seeking purpose and choosing to revert to grassroots lifestyles. "This generation is coming of age to see wealth differently, too. We want to cultivate an abundant, fruitful, and content life. We want to reclaim things, create from scratch, and have a hands-on experience that is not available through technology. We are searching for that pride and integrity that comes from feeding more than just our bank accounts."
Jones foresees that land ownership and healthy outlets will be the driving forces behind the next generations. "Life is like a garden. If you are a good steward and you do the right thing, your harvest will reward you. The success of your garden is a reflection of your state of mind." He then laughs and shared that gardening forced him to recognize his humility. "It made me a more observant person, a better artist. It killed the perfectionist in me and opened my mind to the possibilities that bloom from our failures."
Brantley's visits to Cairo, Georgia increased in frequency and length. He cultivated the land each visit with his father who hobbies in flowers during retirement. He found joy in those labors and getting his hands dirty. Over time he began to feel the pangs of anxiety ripple through him as his visits down south were nearing an end. The peaceful solitude he found on acreage to roam was too indispensable to overlook.
"I didn't want to look at a screen anymore. I wanted to find a plot of land and disappear," said Jones. He didn't have to look far. The family land once worked by his ancestors would welcome a new generation of mirco-farmer and enthusiast still slick from his big city dreams.
Brantley began to market and sell cut stems he had harvested alongside his father in the summer of 2018. Local response was overwhelmingly positive. Six months in, Brantley fully committed to dedicating his time and energy to this new venture and never looked back.
In 2019, Brantley began to scale his operation and decisively seed and plant precise acreage. He made use of a 50ft. by 30ft. greenhouse his father purchased with a grant and repurposed an old tool shed built by his grandparents to use as an insulated seed room. Instagram and YouTube became his go-to educational resources. "If you align your curiosity and thirst for knowledge with realistic goals, you will surprise yourself. Even if you are uninterested in running a full-time business, flower farming provides sufficient supplemental income to those looking to turn a profit from their gardening experience."
With a new product ready to sell in the spring of 2020, Jones faced a heart-wrenching blow, the Covid-19 pandemic. Like many small businesses, Sunbliss Flowers had to navigate the collapse of consumer demand and off-load products to cover expenses. The event industry, the driving force behind most fresh petals and cut stems, dissipated overnight.
Quick to pivot and armed with creative genius, Brantley Jones assembled small arrangements and delivered them doorstep to doorstep. "I marketed my flowers heavily online and sold mostly through social media platforms." Although times were hard, Jones noted that consumers continued to buy his product. "Flowers are the universal symbol of joy and consideration. My product may not have been essential but it was still desired. Buyers just needed an alternative way to get it."
As the veil of pandemic fears slowly lifted, Jones continued to evolve his business. The time associated with arranging cut stems ultimately limited the attention he could allocate to seeding, planting, and harvesting. Jones also began to understand that some flower varieties increased his profit margins. He focused on quality stems vs. quantity. He plugged in advantageously to the buy local, buy regional movement. He developed relationships with wholesalers and farmers' markets.
"How fresh and attractive my flowers are is what I hang my hat on," says Brantley comparing his product to ones that are mass produced. "Most stems and arrangements in your standard grocery markets are approximately ten to twelve days old. Every stem I supply has been cut in two days or less, increasing the length of shelf life and enjoyment." Hence, why he currently focuses his efforts on "growing only a few varieties really well." It is also important to focus efforts on growing flowers that can acclimate and grow in our weather and soil conditions.
In the Spring, he grows ranunculus, lizzyanthus, snapdragons, campanulas, forget-me-nots, and scabiosa (pinchusion flowers). In the Fall, he grows zinnias, marigolds, cosmos, sunflowers, and celosia.
"A new flower bed is like stretching a canvas for me. It feeds my creativity. And there is an art to the harvest. Cutting too soon. Cutting too late. Knowing what varieties continue to blossom and open after clipping."
Unlike most commodity crops, and even most vegetable production, flowers are typically planted, cultivated and harvested all by hand. Very little mechanization beyond field preparation is actually involved, which means production is more often limited by labor than by land. And with farmland commanding premium prices across the South, it's a smart idea to utilize what small acreage you already have access to grow a flower crop.
Currently, Jones plants flowers on ¾ of an acre on the ancestral property he also calls home. He continues to utilize the greenhouse and insulated seeding room. He uses water soluble fertilizers like 20 20 20 and fish emulsion. He applies a light coating of natural neem tree oil to the plants to deter insects. Equipment critical to his operation includes drip tape for drip irrigation, bio-film mulch, and a John Deere tractor with a Nolch compact mulch bed layer with a drip tape attachment.
In the future, Sunbliss Flowers looks to increase its greenhouse capacity through an informal partnership with a local aquaponics operation and increase on-site production to a full acre. "For now, I want to use my ¾ acre smarter and better as well as take a pragmatic approach to what I produce."
For Jones, that means he is exploring what varieties sell best during specific seasons and around particular holidays. "Flowers connect with people and cultures. They are mostly purchased as a gift. I make note of holidays that are flowercentric."
This strategic thinking has encouraged Jones to think outside of the box. He plans to produce a low volume of marigolds to harvest for Dia de los Muertos in October. This 3,000-year old tradition is celebrated in Latin and Hispanic cultures to honor and remember those that have passed on. Marigolds are native to North and South America and are famous for their petals which contain a natural pest repellant. "I'll sell them at local farmer's markets and market them online. It's worth a try and I believe south Georgia has enough culture to support it."
Sunbliss Flowers stems can be purchased from Singletary's Flowers in Thomasville, Georgia, A Country Rose in Tallahassee, Florida, KGD Produce in Bainbridge, Georgia or online through the Sunbliss Flowers Instagram Page. Brantley's stems can also be seen on display in the boutique rooms of the Willis Park Hotel in Bainbridge, Georgia.
View All Articles