First Time Buyer's Check List for Purchasing Property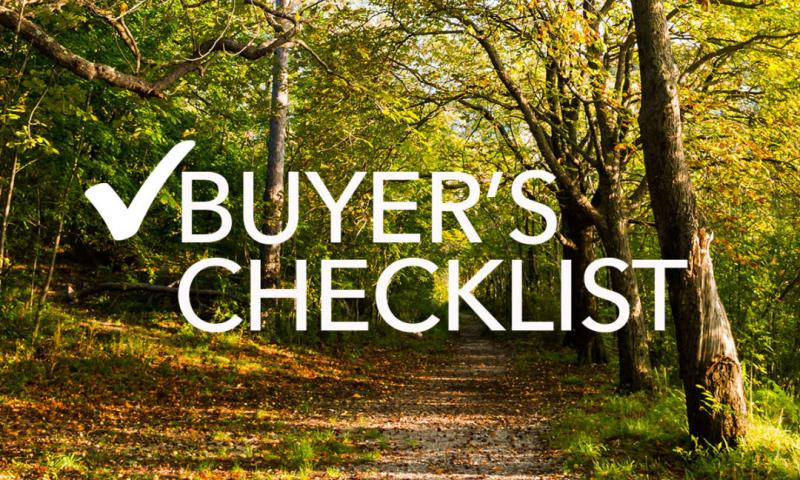 So you have decided it's time to leave the hustle and bustle of urban life behind so you can spend more time enjoying the peace and quiet of country life. And maybe there is a little apprehension about never having looked for—or purchased—acreage in the country. Perhaps you're feeling a bit overwhelmed by the process and need some guidance to be sure you aren't overlooking some important steps.
Well, this check list is for you. It might not cover every aspect of land buying and financing—but it's a handy guide that will steer you in the right direction. So, let's get started! 
Identify the type of property you want
Use online listings to gain market awareness
Seek the support of a real estate professional
Evaluate alternatives for financing  
Spend time inspecting properties
Perform due diligence on those you want to make an offer
Make an offer—not just price but contingencies
Prepare for closing
Have a punch list once you close on your property
Identify the type of property you want – While this seems fairly straightforward, it will most certainly help to maintain clarity between you and your spouse, and your real estate professional, too.  It doesn't have to be fancy—just a simple list of the attributes that are meaningful to each person. For instance, you may want a water feature such as a stream or pond, or possibly a house site that sits upon a rise in elevation, or maybe even open grassland where livestock can be pastured.  And, don't forget about things like paved road frontage, zoning, and nearby amenities in case you think you might decide to live there permanently one day. Lastly, once you have this list, sort through where you have room to deviate and where you don't. Because in the end, seldom do you find the perfect property that meets every aspect of what you want.  Beyond these things, you should do the math during this stage, so you know what you can comfortably afford—allowing you to narrow down properties to those within your budget. This often determines the extent to which geography, tract size, and degree of specialized features and amenities are feasible.
Use online listings to gain market awareness – If you know exactly what you want and roughly what it should cost then you can skip this step. If not, searching the web for land listings will provide you with an appreciation of what is being offered and at what price. The more you look the better you will begin to understand nuances in the market. Such things as geographic differences and price range will become more apparent as you study more and more listings. In reality, you really can't familiarize yourself too much because the more you do the more confident you will be when that perfect tract comes along.
Seek the support of a real estate professional – Choosing a reputable real estate agent, lender and closing attorney are important decisions and can make all the difference when it comes to ensuring your purchase goes smoothly.  Unless you have already found the perfect tract and know who the seller is, and have experience in buying real estate, you would probably be well served to engage the services of professionals.  Generally, real estate professionals specialize within a specific locale, and for particular types of real estate.  While the majority specialize in residential listings, a more limited number specialize in farm land, timberland and other rural types of properties.  Not only do real estate professionals know and understand their market, they possess knowledge and experience in transacting real estate purchases. Unless you engage the real estate agent as a buying agent, however, they will be representing their listing clients. As to what types of real estate agents and which designations they possess are important, please see "Why I should use a real estate agent" located within the I'm Interested in Owning Land module on the this website.
Evaluate alternatives for financing – One tip: plan to get pre-qualified with your lender so you can make an offer with confidence—knowing that you'll have funds ready to go.  Financing for rural tracts of real estate is not the same as residential transactions.  Long-term mortgages in excess of 10 years are not that readily available within the marketplace. Sometimes, long term amortizations (smaller payments) are used in conjunction with shorter maturities where the unpaid principal balance all comes due. In most cases if all payments have been made according to schedule then the loan is renewed for a similar length of time. The issue, however, is that the interest rate will be the prevailing rate at the time of the renewal and not the rate when the loan was first originated.  In a declining interest rate market this is usually not a worry, but in a rising market it will mean a higher payment. So, to protect against interest rate risk, a fully amortized fixed rate loan is the way to go.  Often, the lowest interest rate is one that has the potential to vary as frequently as monthly. When comparing financing alternatives make sure you compare interest rates for terms and conditions that are identical to what other options are or you may be in for a big surprise when the "low rate" escalates to where the payments increased above what you ever envisioned. Lastly, down payments for rural land loans are generally greater. Generally, twenty percent down – meaning 20 percent of the purchase price or appraised value, whichever is less – will be required to obtain the loan. In some circumstances this can be as low as 15 percent, but usually only for superior credit circumstances.
Spend time inspecting properties – Real estate purchases go beyond your average consumer purchase. It is a big decision and nobody wants to make a bad decision or overpay for such a large purchase. Probably the best way to assure yourself of getting what you want and knowing you are paying what it is worth is to inspect a lot of different properties.  This will mean a lot of hours in a vehicle driving around and walking properties. In the end, it is this time commitment and discovery period that expands one's knowledge and confidence in making their purchase decision.
Perform due diligence on the properties you want to make an offer on – Due diligence is the process of assessing and confirming specific aspects about the property.  Some questions regarding the property can be addressed to the real estate agent, while others will require some investigation on your own.  While not all inclusive, such things as confirming boundaries, looking for potential boundary disputes, establishing easement or road access, and understanding your neighbors and any issues that may have developed over the years, could prove helpful to know about.  If the property has timber you may want to engage a forester to assess the timber value. Most appraisals will not specifically address the value of the timber even though comparable sales should be those with similar characteristics. A quick check on taxes, zoning and other land use restrictions—particularly if you think you may want to build a pond—will ensure you can do what you are envisioning. Also a check-in with the Farm Servicing Agency to determine what programs the property would be eligible for or any programs that are already resident with the property is a good thing to do.
Make an offer – Your market awareness and confidence have grown and you have looked at a lot of properties and now you have found that special place you think is the right one.  Your informal due diligence has confirmed that there are no obvious boundary issues and that access is legitimate and sufficient.  If the property has buildings and structures, it is generally useful to separate the perceived value of the buildings and structures and the per acre value of the real estate to arrive at what you think the property is worth in its entirety.  Another way would be to acquire an appraisal that would provide an estimate of value. One note of caution, however, the same appraisal may not be eligible for use in obtaining financing as banks are federally required to have appraisals made out to their names.
So, now it is time to make an offer. How much you offer is determined by what you think the property is worth based upon other tracts considered and what you can afford. Price is not the only consideration to think about when extending an offer. In addition to the amount of earnest money on the contract and for which you will be expected to write a check, such contingencies as clear title, survey, property access, insurability and professional inspections, appraised value, environmental conditions, septic feasibility, water access or other inspections are routinely specified within the offer. At this point, you are actually in the formal due diligence period and should seek conclusive answers to any contingencies.
Preparing for closing – You are almost there, but there are still things you are responsible for.  Unlike other states in which title companies handle escrow and closing, in Georgia, a licensed Georgia attorney must close all real estate transactions. Typically, only one attorney is involved in the transaction, and the attorney represents either the buyer's lender in a lender-funded transaction or the buyer if it is a cash purchase.  Closing actually begins at the point the purchase and sales contract is signed by both parties. This is also a good time to ensure you have property and casualty insurance ready to be in force upon closing.
You will need to make arrangements with the bank (if you are borrowing) to have funds available at closing. At some point you, or through legal counsel, will need to review the title binder for any potential clouds that affect title. Such things as unreleased security deeds, IRS liens, judgements or other ownership claims would need to be addressed before closing to ensure clear title and issuance of the title policy acceptable to you or any lender.  For more information on the closing process please see "Closing on Your Real Estate Purchase" located within the I'm Interested in Owning Land module on the website.
Have a punch list once you close on your property – After the closing of your real estate transaction you will need a punch list of things to take care of—things like securing the property and structures to having electric service changed to you as the new owner. If you are long distance owner, insurers will often want periodic inspections of homes or improved structures for signs of problems that can be addressed before they get out-of-hand.  Likewise, any ongoing maintenance and upkeep that needs to occur like mowing or road clearing should be arranged so that you don't show up only to find your access is blocked by a downed tree.
View All Articles