The Fire Inside - Bob Stott Custom Blades & Tools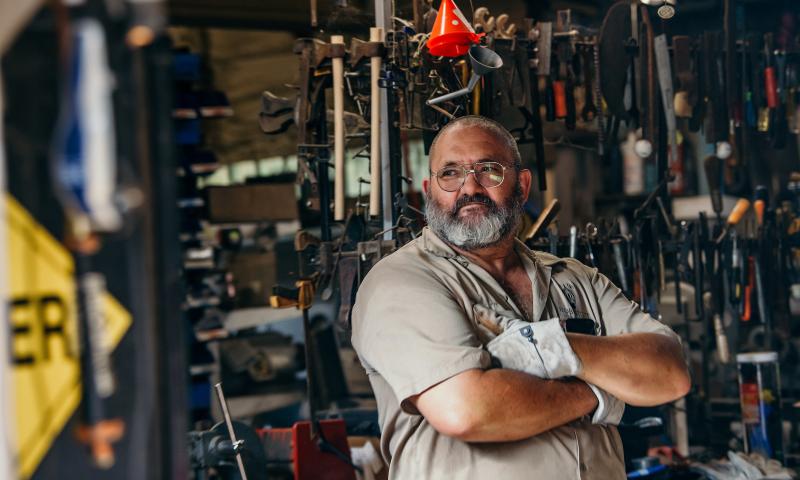 South Georgia bladesmith expert, Bob Stott, was born in the small town of Potgietersrus South Africa, now known as Makopane. I knew he was a storyteller 10 minutes into our ninety-minute call. His foreign accent was noticeable and powerful. But there was also a southern undertone of twang and patience in his voice undoubtedly shaped by years of living in central Florida and southwest Georgia. "I've been redneckified," he says with a chuckle. Twice we lost signal and our call dropped. My phone rang each time shortly thereafter with Bob stating "The wind must've changed directions.
Stott moved to America in 1991 and drove semis for employment. The delivery route that took him through southwest Georgia (Bainbridge) several times a month also led him to the love of his life, Ivey.
En route from Central Florida, Stott's truck broke down in Bainbridge. He entered the repair shop where he found staff working on the underside of his rig. Bob kicked one of the boots visible from where he stood and shouted "Hey dude! When are you going to be done with my truck?" He chuckled again when he shared, "She slid out from under the truck, grease on her face, cap turned sideways. Surprised, I said, 'You're a girl!' She gave me a witty response I never forgot! We've been married for 25 years now.
"I still have family in South Africa and I visit when I can, but, I love it here (Bainbridge). Everyone is hospitable and honest. It's safe. That really means something to me."
Stott has been amateur gunsmithing since childhood. "I enjoy researching things that are of interest to me but I have a terrible learning disability - dyslexia. Working with my hands is more natural, almost therapeutic." He was referred to a local bladesmith in Jakin, Georgia, T. Paul McGowen, during his quest to learn how to make Damascus steel to use for his gun parts.
Under McGowen's teaching, Stott made his first blade. "It was a very ugly fixed blade hunting knife. Everyone's first blade is ugly. But it is was a serviceable knife – served a purpose – I still have it hanging in my shop. Stott became enthralled with the art of forging custom blades and tools. He has not re-visited gunsmithing since, but works frequently with his dear friend, McGowen, on numerous projects.
Damascus steel is made from several layers of different steel – heated and forged together to create one solidified piece. It is characterized by exceptional hardness and by a watered, streaked appearance caused by the varying carbon levels of the original material. Through our conversation and a little research, I learn that the origins of Damascus steel date back to early civilizations in India. The steel was traded through Scandinavian countries and eventually adopted by Vikings. The art has been lost over centuries but is seeing a renaissance. "What I do is a modern adaptation of it.
Stott sources materials from specialty wholesalers for stainless steel knives but uses scrap steel for his Damascus blades. "I use the steel people typically haul off to the scrap yards like pickup truck springs, ball bearings, old saw blades out of sawmills. Or friends bring it to me. I have more than I know what to do with. He makes handles out of resins or hard acrylics but prefers to use wood, antler, horn, or bone. "I have collected from all over – brought some back from South Africa (like giraffe bone or antelope horn). I have special permits that allow me to export it. But I also use local deer antlers that hunters bring to me or that I find wandering off in the woods.
Bob makes his custom blades and tools out of his home shop. He uses homemade forges, power hammers, and hydraulic presses acquired over 15 years. His most frequently used process for Damascus blades involves heating the steel in the forge at 2200 Fahrenheit, placing it on an anvil, forging and beveling it with his hammer, placing it on a belt grinder for smoothing, and then dipping it into ferric chloride. "Different steels react to different acids. The chloride etches the Damascus steel, allowing for the beautiful patterns to intensify." The patterns that result after quenching and finishing are distinctive and complex. Damascus blades are judged largely by their watering, which serves as a guide to the quality of the steel.
It's all a dangerous process. I wear safety gear, but I still get burned. His scars tell no lies. His broad shoulders and giant hands make yielding a giant hammer look like easy work. His superhuman labors bring American folklore legends like Paul Bunyan to mind. The shop, though organized, was filled with every tool, hammer, blade, and sharp edge I could imagine. One of three homemade forges lit made the hot July day a bit more intolerable. "I built these myself. I can heat the steel within a degree of the temperature needed. He was repurposing a wrench into a blade that day; pulling it from the forge to place on an anvil from the late 1800s, shaping the steel with his hammer, and then placing it back in the forge to repeat the process.
I mentioned the hit tv show Forged in Fire and asked if it was a good representation of what he does. "It has awoken an interest and an appreciation for handcrafted blades. But the competitive atmosphere allows very limited time to create something truly unique, something of quality. The show takes several shortcuts and makes the process look quick and simple. It takes more than 4 hours to heat treat a blade correctly.
He follows that statement by openly admitting that the show, along with other various books and movies, inspires him from time to time. He has created his interpretation of the tomahawk seen in the movie The Patriot on several occasions. "I am passionate about my work and I never want to force it. I can get hung up starting a project just waiting for the creative bug to bite.
Like most artists, Bob is afraid that the creative fires that burn inside of him will diminish by taking on too many commissions. He refers to his business as a side-gig. "I create what I want when I want. My work is governed by passion and not by money. I am never fully satisfied with what I create. I only allow myself to let go of a project when I reach a certain level of happiness about it." He realizes that he competes against knives and tools that are mass-produced. "I give customers something I create with my hands. It comes with a lifetime warranty. A lifetime of me anyhow.
Those most familiar with Bob's craft were referred at some point by another collector of his masterpieces. The majority of his transactions happen by an individual shopping his social media page or inquiring about his recent work.
"I create axes, tomahawks, steak knives, kitchen knives, hunting blades, oyster knives, ulus, swords, fireplace tools, frying skillets, ladles . . . I have made several extraordinary pieces over the years and unfortunately, I have sold a good majority of them. My dear friend, Mark Lindquist (photographer and woodworker from Quincy, Florida), has been an incredible mentor for me and his level of accomplishment is something not many can relate to. He told me to never sell my best work. As I age, it makes more sense.
Stott is currently wrapping up several projects for a large custom home being built on the Chattahoochee River; 20' tall light fixtures, fireplace tools, a pair of iron and wood entrance doors measuring 6' wide, 12' tall, and weighing 4000 pounds collectively. "I have a customer that lets me venture outside of my comfort zone and challenges me.
When asked if he had a favorite piece, he shared "I really value my Journeyman piece I turned in to the Florida Artist Blacksmith Association for my Journeyman Certificate. It is quite precious to me.
His pricing varies and depends on the materials, size of the blade/tool, and the number of hours he puts in. A complex and intricate blade takes around 60-70 hours.
Outside of his side-gig, Bob manages several rental properties and enjoys riding his electric bike and traveling. "I am also rebuilding an old transit bus like I don't have anything to do," he says with another chuckle.
To see Bob Stott's incredible work, visit his Facebook page, Bob Stott Custom Blades and Tools, or give him a call at 229-515-0383.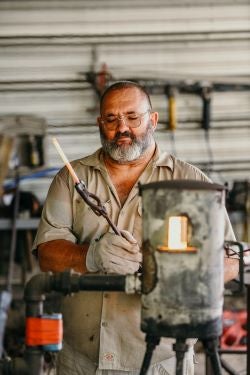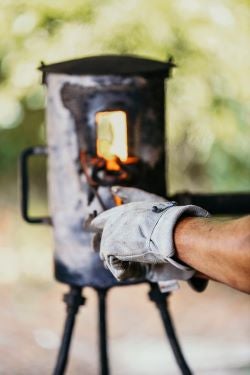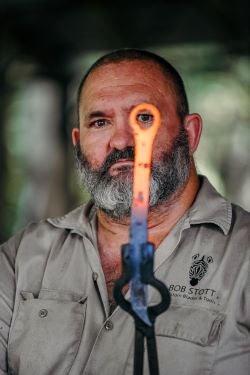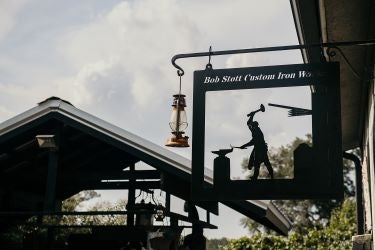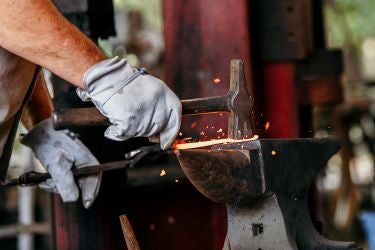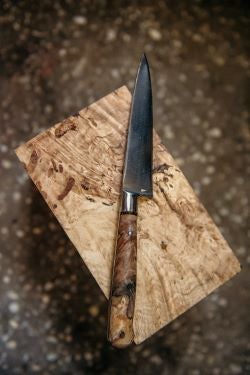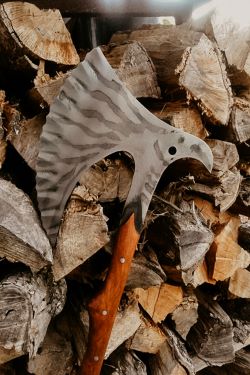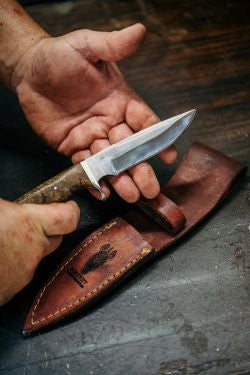 View All Articles