Whether a living or a lifestyle, "Farm" is what you make it.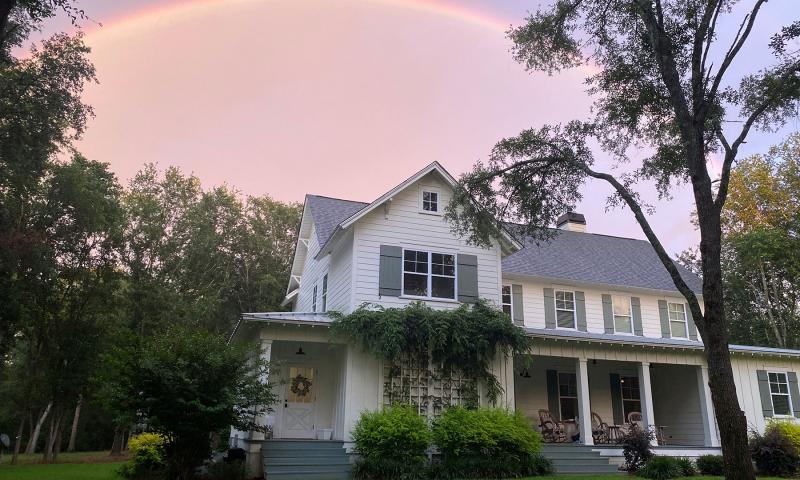 We hear it all the time. "I'm taking the kids out to the farm this weekend…" Or, "Honey, I need to do some tractor work at the farm this evening." And, of course, "We're hoping for a good crop on the farm this year." 
Around these parts, farms come in all shapes and sizes. "Land is a farm," said Brian Wilson, Southwest Georgia Farm Credit's Senior Relationship Manager. "Farming is just a technique to make something better." And he said everyone looks at their farm—their land—with that in mind. "People don't buy land and want to keep it just like they found it. They want to make it theirs."
Relationship Manager Brant Harrell agreed. "Some people live off the farm, they don't leave it, they live it," he said. "For others it may be a hobby type deal, a relief from the way they earn their income."
In the aftermath of what most of us experienced recently, being quarantined, land has a new meaning. It's a place for escape, for freedom, and there's always some invigorating activity to occupy your time.
"I'm thinking about the person with an 8 to 5 job who buys a timber tract, recreational tract," Harrell said. "They might dig a pond, spray some grown up areas, get it cleaned up, get it re-planted in trees, put in an orchard. A lot of that comes in stages." Some activities are a shorter return—like going out and mowing. "You can turn your tractor off and see what you've accomplished," he said.
Land also serves as a handrail of sorts between the generations. Hurricane Michael wiped out trees that were fully grown when Harrell's 75-year-old father was a child. The family cleaned up the area and re-planted it in hardwoods. It's something they're doing for the next generation, to give them roots. "I'm 47 and they'll take awhile to grow," Harrell said. "My kids will see that."
FITTING THE FARM NICHE
"It's not a romantic life, but it's a really rewarding one."
Kate Von Glahn finds it humorous when people try to romanticize the farming life. Especially after the hurdles they had to overcome following Hurricane Michael.
Kate and her husband, Chuck, started a niche farm in Mitchell County in 2015, while both of them worked for Kate's father, who farms row crops and pecans. In spite of many challenges, they committed to their own operation full-time in January of this year.
They put their four kids—ages 8 to 15 years—to work before and after school, and later launched the Von Glahn Family Farms website. When COVID-19 hit, their business model changed drastically, but their size and set-up gave them the flexibility to respond.
With normal supply lines interrupted, the Von Glahns quickly launched an assorted produce and fruit box program, distributing them at the farm once a week. A local man had been doing assorted boxes on a smaller scale, but without a central distribution point. The Von Glahns combined efforts with him and took orders through their website and Facebook® page with payments made through PayPal® and Venmo®. Cars lined up at the farm on Saturdays, Kate said. "People drove through, gave their name through the window, we checked them off and the kids put the boxes in their backseat."
One Saturday, they distributed 125 five-pound boxes of blueberries, 50 produce boxes, plus jars of honey and some other add-ons like a local farmer's organic burst squash and "8-ball" zucchini. Later in the season, they added blackberries and citrus boxes, and opened up the farm to U-Pick.
Kate marveled at how the ag producers pulled together. "We didn't do all this on our own, we had a lot of help, a lot of community support, support from our families," she said. The kids sacrificed a great deal, also. Their school was closed, so they were fitting in their studies between chores. At one point, Kate's mother was preparing their meals and extended family members pitched in on weekends. It kept the Von Glahns afloat.
Farming isn't easy, but it's a life with so many opportunities for gratitude, Kate said. "We get up in the morning and we're excited to get in the field. We plant the seed and tend to it and turn it over to God's hands, and say, 'Do what you do.'"
FAMILY TIME AT THE ROOST
"We don't have to work to get the family together. We're all at the farm."
One afternoon, Jay Young and his two sons, Brooks and Jack, were at their property in Early County when they saw a bunch of turkey vultures scavenging around a cell tower. The family had pondered the idea of choosing a proper name for their farm, so that encounter started a joke: Why not "The Buzzard Roost?"
When Young's wife LeeAnn, and their daughter Hailey, heard the proposal, they said No way. Eventually everyone compromised and they named it "The Roost."
"But it's really just 'the farm,'" Young said. And because it's only a three-hour drive from their primary residence in Cobb County, it's the perfect spot for getting everyone together.
The Youngs built a comfortably-sized cabin, which is a favorite get-away for their grown children, now ages 22 to 28. "We built this house so we could accommodate the kids and a whole bunch of their friends," Young said. They keep a Kawasaki Mule and a couple of mountain bikes there, plus hunting and fishing gear. The whole family loves the outdoors. Young said they are primarily deer and turkey hunters but also love to hunt dove and duck. Lunch typically follows at a favorite picnic spot.
A commercial real estate and investment broker, Young's first entry into buying land was in 2003, when he bought a farm in Lee County with another family. He's since bought and sold several timber tracts and between 2014 and 2015 bought three pieces totaling about 450 acres, which is where they built the family cabin.
This past spring, he added another 340-acre tract that's adjacent to the original. A little less than half of the total acreage is planted in pines; there are also hardwood bottoms and creek drains throughout. The new tract gave them about 35 acres of agriculture plus an 11-acre cypress pond, which expanded the family's opportunities for adventure.
In spite of busy lives, The Roost has helped the Youngs stay close. "It's what our family loves. We spend a ton of time at the farm."
SHAPING THE NEXT GENERATION
"I want my son to know what a full day's work is and for us to create memories together."
Some of Trey Swalm's greatest experiences growing up took place on a tract of land his family owned, called Five Mile Place, in Mississippi. Now that his son, Asher, is 13 years old, Swalm decided it was time they had their own tract, too.
A Certified Public Accountant, Swalm has been looking at southwest Georgia for a few years. He's visited friends who own property in Early and Lee counties. This past spring, he settled on a site in Calhoun County. From his home in Atlanta, he said, "It's a three-hour-drive on the nose. That will give us the ability to enjoy it more often." 
The 200-acre recreational timber tract has an existing cinderblock structure, but not much else. "We've got a lot of work ahead of us," he said. He expects the first year or two will be for planning. The first priority will likely be a barn for storing equipment to manage it.
So far, Swalm's son seems to be all-in for the new experiences ahead, since he's heard his father talk about their family place growing up. "I want him to understand the investment of time it takes," Swalm said. "And what I like is that he and I will be able to do this together."
Farm Credit Relationship Manager Brian Wilson connected Swalm with opportunities for land management programs that can offset expenses. That meant a lot, since Swalm's specialty is real estate accounting. "Being a CPA, it's in my nature to look at it from that perspective—as an investment," he said. "This had two returns on it, personal return as well as a financial return—which is pretty rare."
Swalm likes that the Leary and Blakely communities are nearby. "The area is fantastic," he said. He's had nothing but positive experiences with people willing to share resources and help him with his land. "The way it happened, it was a great relationship that created a lot of other great relationships."
Asked what he plans to call their farm, Swalm didn't hesitate: "Five Mile Place." Of course.
View All Articles