Brown named Farm Credit Leasing Relationship Manager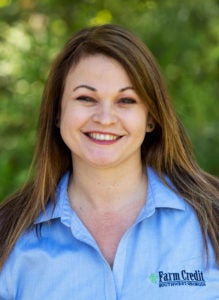 BAINBRIDGE, GA— Southwest Georgia Farm Credit has named Ragan Fretwell Brown its Farm Credit Leasing Relationship Manager. Brown, who currently serves the Association as the Farm Credit Express Relationship Manager, will work closely with borrowers who can benefit from the many advantages leasing offers. A 17-year veteran of the Farm Credit System, Brown will continue in her role as Express Relationship Manager.
"Leasing offers farmers and farm businesses the advantage of an easy and convenient process, with the ability to structure to match harvest cycles, cash flows, and tax requirements," Brown said. "For farmers who want to conserve cash, enjoy the benefits of a fixed rate with lower payments, and gain tax advantages, leasing is an option to consider."
Brown pointed out that leasing farm equipment, metal buildings and storage, grain bins, processing and packaging equipment, fleet vehicles and specialized farm equipment, among other things, can prove to have a positive impact on a farm business's bottom line. "A farm business can improve its debt-to-income ratio and working capital when it removes current debt from its balance sheet," Brown said. "Depending on an operator's or producer's goals, leasing can also be a way to think about farm transition from one generation to the next. Leasing is another tool in the farm transition toolbox."
Brown noted that lease payments are typically 100 percent deductible. If a producer chooses to own a structure, they generally are limited to depreciation and a deduction for interest expenses. And, leases can be structured to fit specific tax strategies—whether a producer wants accelerated depreciation or no depreciation.
"Leasing is an option you should discuss with your Farm Credit Relationship Manager and your tax advisor," Brown said. "We'd like the opportunity to get the conversation started and show producers and agribusinesses the advantages of leasing with Farm Credit Leasing."
Contact Ragan Fretwell Brown at 229.254.6391 or RBrown@SWGAFarmCredit.com.
View All Articles