Allison Godwin Named Human Resources Manager – Corporate Secretary
BAINBRIDGE – Southwest Georgia Farm Credit announced recently that Allison Godwin has been named Human Resources Manager – Corporate Secretary. Mrs. Godwin, who joined the Association in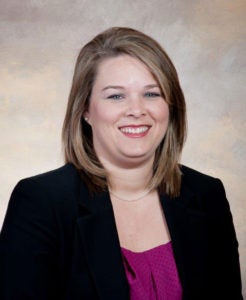 1998, will continue to manage the day-to-day administration of the operations of the human resources function. In her new role as Corporate Secretary, she will work closely with the company's Board of Directors, CEO and leadership team, providing information on board best practices and tailoring the board's governance framework to fit the needs of the Association and its directors, as well as the expectations of the shareholders.
Godwin began her career at Farm Credit as an Accountant and from there went on to Assistant Controller in the Finance and Operations Department. Mrs. Godwin has also spent time serving on several association committees including: Organizational Health; Diversity and Inclusion Council; and Customer Experience.  Mrs. Godwin holds a Bachelor of Business Administration in accounting from The University of Georgia.
Headquartered in Bainbridge, Georgia, Southwest Georgia Farm Credit supports farmers and farm businesses, as well as rural property owners, providing safe, sound, dependable financing. The association is part of the Farm Credit System, a nationwide network of agricultural and rural lending institutions cooperatively owned by their borrowers. Farm Credit helps maintain and improve the quality of life in rural America and on the farm, through its constant commitment to competitive lending and expert financial services.
View All Articles