All Hands On Dirt - Meet Michelle Burke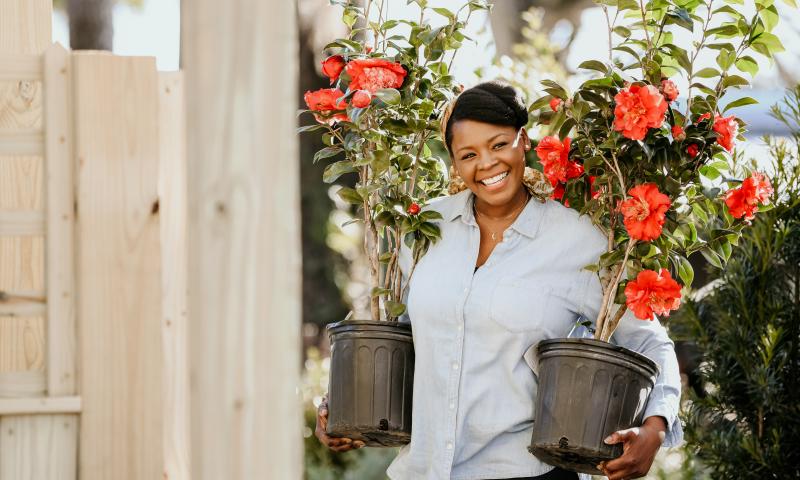 Written By Julie Bettinger     |     Photography by Anna Kinchen   |    Location: In The Garden, Bainbridge, GA
There's something enchanting about the way Michelle Burke introduces herself on social media.
MichelleB #LandscapeDesigner #Homesteader #Herbalist #Horticulturist #Homeschooler #PlantLover #Mother #SlowLiving
The descriptors tug on something deep inside of you, twisting what you view as something old back into something new, beckoning you to remember a past time, awakening your grass roots spirit and calling it to create again. Or, at the very least, become one of her loyal followers. Spoiler alert: a visit to @burke_meadows on Instagram will make you want to plunge your hands in the dirt or bake something oozing with buttery sweetness. Still, once you spend time in Burke's company, you quickly realize, her life is much more than a series of hashtags. Michelle has an infectious pace to life, making the absolute most of everything, and leaving one to wonder more what it is that she cannot do, versus what she can.
Putting city life in the rearview mirror
Burke and her husband, Danny, took a big step toward more intentional living in early 2019 when they and their two children relocated to southwest Georgia from Orlando. Danny was born and raised in Bainbridge and Michelle is from Peach County.
The two met as members of the nationally acclaimed FAMU Marching 100, that high-energy, high-stepping college band. He was on bass drum; she was on trumpet. After pursuing an education in landscape design and greenhouse management, Michele married Danny in 2010 and the two spent the next several years big city living in Orlando. As for putting that city life in the rearview mirror, Michelle said "We really wanted to slow down and get some help, too." That extra set of hands offering generational blessings are now only 10 minutes away.
In Central Florida, Burke had a garden shop called Mack and Flora, specializing in "the art of interior gardening." Danny was in property management, an easily transferable skill. Their daughter was two and son was in preschool when the idea of moving came to light. Michelle was already offering interactive gardening classes and DIY workshops—building forest-like terrariums for tables and succulent dish gardens for countertops—so she decided homeschooling and homesteading was a natural transition.
Searching for soil
After the family settled in to their new South Georgia digs, Burke took an inventory of their in-town quarter acre lot to find the section best suited for a home garden. The Burkes have a huge live oak in their backyard that the kids named Captain Green Beard. "He's massive, he shadows everything," she says. "The kids love him." She discovered one spot outside of the canopy that gets full sun, a space the size of a large walk-in closet. It now serves as their food plot, homeschool laboratory and source for nature therapy.
Burke also loves raised garden beds. She has created a raised garden area specifically for potatoes. "I skipped the whole digging in the ground part," she says. She just piled garden soil on cardboard and raised sweet potatoes. We really wanted to slow down and get some help, too. That extra set of hands offering generational blessings are now only 10 minutes away. " In the Garden bainbridge, ga Michelle Burke
Little hands that assist
Her growing projects also involve the kids. "Gardening is what we do, it's what I do. So I get them involved." She admits that younger children aren't very productive, but they can punch their finger in the dirt and drop a seed in. They have their own gloves and can pull weeds, with guided instruction. To help her in the trying moments—like repeatedly being asked, "It this a weed?"— she acknowledges, "You've got to have some grace going in."
It takes patience on the kids' part as well. "They have no real concept of time, so every day they ask, 'Is it grown? Can we eat it?'" It's a learning experience seeing the process, growing from a seed to a plant, then fruit, then turning different colors. Whether it's the gardening process, the cooking of their bounty or canning, Burke says, "Kids make a mess. But if you have the time, they are learning and it's worth it."
Making a success of it
Burke's spring garden is a mix of vegetables, flowers and herbs. "We do our own composting and we only plant things that we eat ourselves or can use," she says. She recalls feeling pressured in the early days to have more of a variety, but it boiled down to the practical. "With small kids, their palates are not diverse. I'm just trying to make a success of those three or four vegetable choices."
She also looks for items that are easy to grow and her kids will enjoy picking and eating. "For example, a tomato. So, they'll know what that looks like." Watermelon is another favorite. "They got as big as a volleyball, they're really juicy things."
Burke is an herbalist, which is using plants for medicine. For example, she makes her own elderberry syrup to build their immune systems. And the process of tending gardens has its own therapeutic effect, if you keep it in perspective. "Some people are out there three times a day, but I think the smaller the better for vegetable gardening."
Life in transition
Burke admits that country living has taken some getting used to, including planning well in advance for household purchases. But not having big chain stores on every street corner helps money management-wise, she says. "Shopping is intentional now."
And an unexpected blessing came with the friendships she's formed. "You can get community faster in a small town," she says. "If you go into a health food store or a Mom-and-Pop business, you'll see the same people. They know your name. In a big city, you aren't going to see that cashier again."
She'll also see those same people at other happenings in the community, like her son's recreational game or daughter's ballet. "In a small town, it's not so separated, it overlaps. The coach might be the coffee shop owner. I don't intentionally seek to get to know people, but here it just happens. Community happens."
Readying for summer
Since relocating to southwest Georgia, Burke's life is marked more by the seasons. At the beginning of the year, she was cleaning up her garden space and monitoring the weather. "We'll have days that feel like spring, the Japanese magnolias will open up. Everybody's tricked," she says. It's the whole yo-yo between hot and cold.
If she was planning to grow tomatoes from seed, she'd start early in the year. "It's cheaper to buy the seed, but you spend months trying to keep that seed safe," protecting it from the cold. Instead, she buys a six pack of tomato vines in the spring.
That's when she also starts thinking about the summer harvest: sweet corn, watermelon and bell peppers for those fresh omelets and stir frys. "Kids love peppers. They love watching them. We don't have apple trees, but they feel like an apple when they grab them. They're a good size, big and round. It's like picking apples."
She also plants okra, "even though I'm the only one who eats it. It's so easy and loves the heat. Not many bugs like it and it can withstand neglect. You can eat it fried or throw it in a stew. It gets so big and is an easy summer harvest."
Burke also insists on flowers—for beauty and sustainability. Zinnias are one of the most self-reliant summer annuals, she says. They re-seed before they die out at the end of a season and come back each year more abundantly. As she points out in one post, "In the middle of a scorching summer, when all of your other plants are thirsty and exhausted and you can't seem to either keep up with water or control pests, Zinnias are there thriving with their smiling, sun worshipping faces."
Besides, she ends, "who wouldn't want fresh cut flowers on your table all season long?"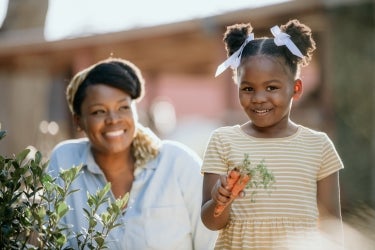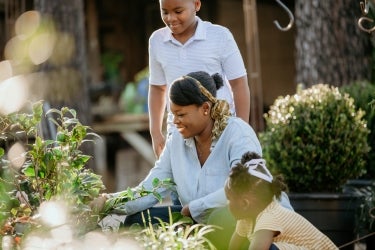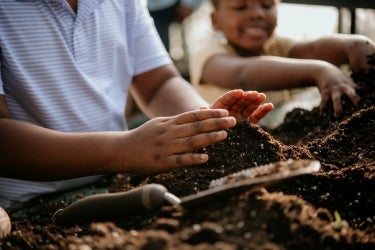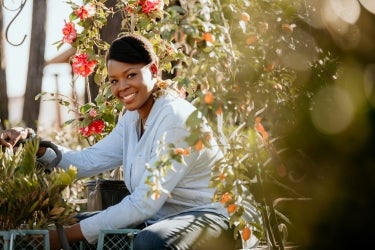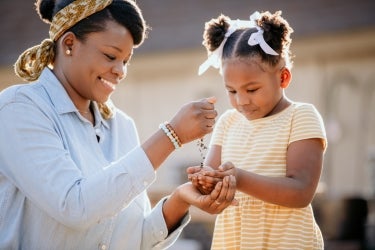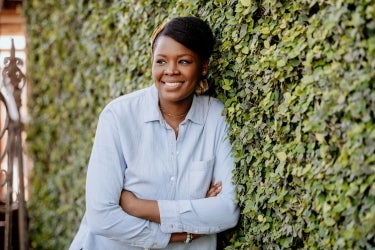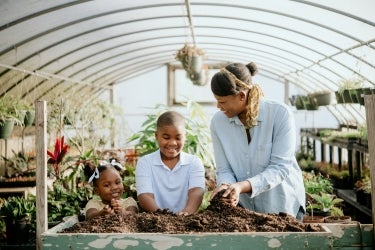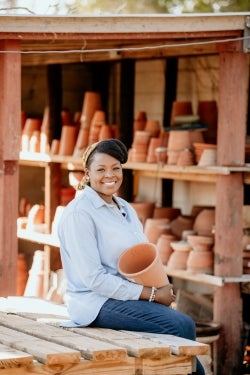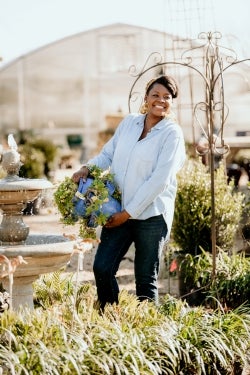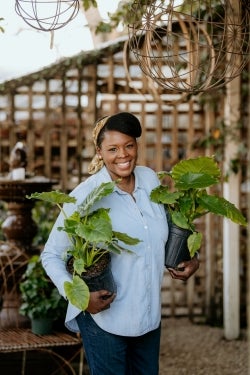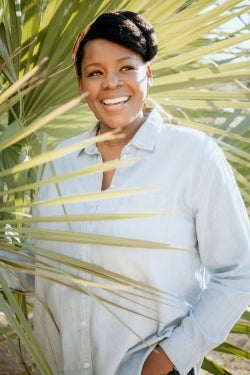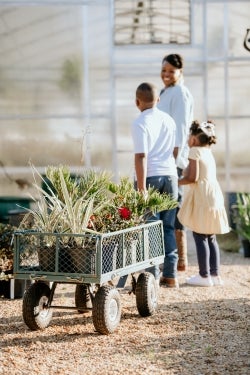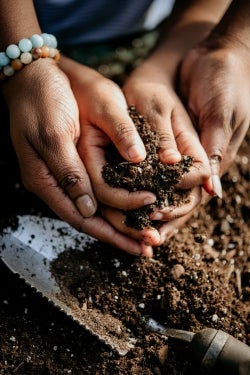 View All Articles