An Ag Pilot's Point of View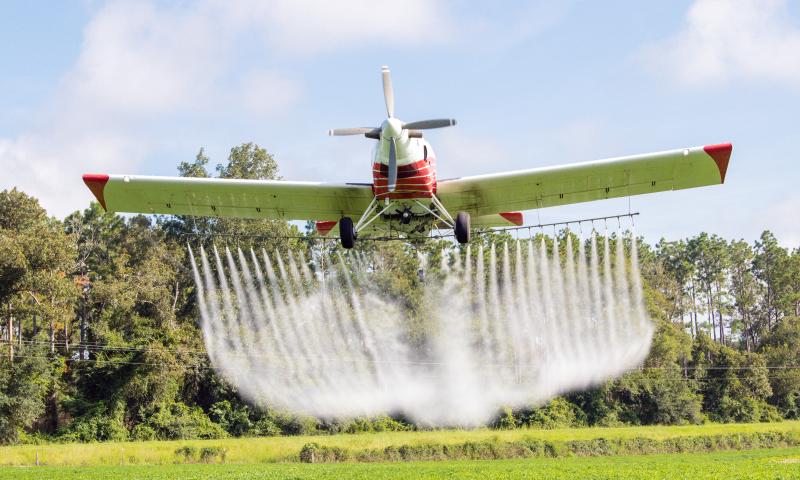 Growing up in the South, one becomes accustomed to the sounds, sights, and aerial acrobatics of low-flying planes and their daredevil pilots. Although, you'll often witness spectators stopped roadside, witnessing a personal air show in awe. There is something American about watching a propeller cut through the early fall clouds and descend upon a South Georgia row crop.
Overlooked by many, aerial application is crucial to the industry of agriculture. This is farm country and pilots are in demand. This high stakes, adrenaline-heavy career choice is technically challenging but provides an efficient, economic solution to the region's agricultural producers. In most cases, treatment from the air is the quickest and safest way to protect a farmer's investment and increase crop yields. This service can also mean the difference between salvaging a field or losing an entire crop.
Ag pilots undergo a great deal of training. The first step to become an aerial applicator is to earn a commercial pilot license through the Federal Aviation Administration. This includes passing a medical exam and flying for 250 hours.
Pilots who enter the aerial application industry are trained in all aspects of application, safe pesticide use, and entomology in order to minimize risk to the environment. They fly at speeds up to 150 mph and at low altitudes while maneuvering around obstacles such as trees, towers, power lines, irrigations systems and structures.
Today's industry is comprised of state-of-the art equipment with million-dollar turbine-engine planes, intricate GPS systems, swath guidance, aerial imagine, and prescription mapping and dispersal systems. Depending upon the product and plane, pilots can disperse 3 to 5 gallons per acre and cover 127 acres per flight.
With the sky above and land below, three southwest Georgia pilot's share their perspectives about the business and the risks they accept.
The Thrill of it All
"The best flights happen early in the morning. It's quiet. The air is smooth. There's nothing quite like seeing God's creation from the air at sunrise."
Scott Lewis, 66, of Vada, Georgia has been in business 38 years. The owner of Lewis Ag Aviation, Scott provides aerial application for approximately four counties in southwest Georgia. Currently he treats various row crops like sweet corn, cotton, and peanuts in addition to pecan orchards.
Scott was born and raised in southwest Georgia and recalls the excitement of watching a plane fly overhead in his youth. His father owned a farm supply business and frequently hired pilots out of Quincy, Florida to dust peanuts. "My first experience in the air was with a local pilot, Billy Wayne Sullivan. It was a wonderful experience that really sparked my interest. I guess I always wanted to be able to fly with the birds. It did not take me long to realize I needed to raise revenue to support my new habit."
Scott received his private license around the age of 25 out of the Camilla airport under the instruction of Randy Berry. He obtained his commercial license shortly thereafter. "Before I finished my commercial license I bought a two-seater airplane with a friend, Tim Maxwell. I practiced dusting the fields, setting up buckets down below, and dispensing my load between them."
"There is a big difference between flying private and aerial application. There is always a risk, but in my line of work, there is a risk and a challenge. I enjoy the thrill of it all."
Scott currently flies a 510 Thrush with a Pratt and Whitney 750 horsepower engine that holds 228 gallons of fuel and 510 gallons of product. "Of all the planes I have flown and owned over the years, Thrush is my favorite. It's stable in rough air, built locally, and pilot friendly."
In 2004, Lewis built his own 1,900-foot grass runway out of the necessity to get off the ground and into skies quickly and locally. In 2009, he added a facility designed by the EPA and permitted by the Department of Agriculture that consists of a chemical storage building, loading and drive-thru area, fuel tanks, and water storage. "Every chemical we use is certified and we use it in a safe way." and fall, but shares that he formerly applied forestry fertilizer in the winter months. "I would start in Mississippi and work my way to Alabama, Florida, Georgia, South Carolina and North Carolina. I did that for eight years. And I have done the Corn Run out West twice." He also flies for leisure when his schedule allows, traveling to Apalachicola and St. Augustine, Florida, and the Florida Keys. "My wife and I pack up and off we go. It's nice to disappear for a little while."
Over the last 25 years, Lewis has been a Director on the Board of Georgia Aerial Applicators. At one time he served as president. Now he serves as vice president. He shares his insights about the industry, "We started seeing a shortage of aerial applicators around 20 years ago. There is approximately 1,358 operators left nationwide. When I started flying there were nine pilots in Mitchell County. Now, there are four."
Lewis attributes the decline of industry professionals to risks and a shortage of aircrafts. "Plane and insurance costs have gotten extravagant. Calculate in the cost of maintenance and the rising price of fuel and the appeal of the industry is lost to any newcomer. "
Scott says he operates his business under the motto, "Live to fly another day." He also shares, "I find purpose in my occupation. I like to help the farmers produce the food and fiber needed for our growing population. I take great pride in flying over a healthy crop or beautiful field of defoliated cotton knowing that I had a hand in it."
Like other pilots, weather factors into his decisions to fly on any given day. "I enjoy every flight. But, I enjoy walking away from the plane, especially after a scare." Lewis admits that his family is always concerned about his safety but are also proud and supportive. "My kids— that's all they've ever known me to do."
Reflecting about his career, he shares some frightening experiences, including three engine failures, and one wreck into a wooded area that cost him his plane. Pilots are trained to pick out a location for an emergency landing. "You don't have time to be afraid—a pilot's response is very instinctual—you are one with the plane. It's all about the landing and flying until you can't fly anymore. And the next day, you go right back up again."
Rising Above
Kent Croom, of Croom Aviation, has been in the business for 38 years, employs seven individuals, and provides fertilizer, seed, and crop spraying in Donalsonville, Georgia. Croom also raises 350 head of cattle as a side hobby.
"At a young age, I remember plowing corn on our family's farm. I enjoyed watching a local crop duster, Patch Price, fly over and treat the fields around us. My roots in agriculture ran deep, but I wanted to do something different than row cropping. Ag aviation is exciting. It is a service that has allowed me to stay connected to the land, to farmers."
Kent started flying in 1980 while still in grade school. Summoning up memories from his past, he shared "Louie Bonner use to check me out of class to fly with him. We would capture other football teams on film from the sky and share the footage with the coaches back home." Kent graduated from Seminole County High School in 1982 and immediately started his training at Ham's Flight School in Albany. He finished his license at Sowell Aviation in Panama City, Florida. He went on to receive his commercial, multi-engine license, from Jim Harrell and his Instructor license from Bill Nichols shortly thereafter.
"I get a freeing feeling every time I go up that I find enjoyable. It makes me forget all of my troubles."
Ken launched his crop spraying business in 1983 with a Cessna AGwagon. He purchased several different planes early in his career but had to add two Cessnas' and one Pawnee to his operation in 1988, the year the Boll Weevil Program began. Ken bid on all of the cotton from Chattahoochee, Florida to Moultrie, Georgia.
Kent, now 57, shares that he has flown every type of crop duster there is including, Pawnee, Cessna, Ag Truck, Ag-Cat, Thrush, Air Tractor, Dromader, and Weatherly. "Of all those planes, I enjoy the Thrush the most. It is built in Albany, Georgia, and is one of the best flying planes ever built in my opinion." Currently, Croom has three, 5/10 Thrush planes and one 400 gallon Thrush plane and lives by the motto "Always respect the airplane!" He operates out of a 40 X 60 load facility in Donalsonville, Georgia. His main plane holds about 510 gallons of product.
Croom Aviation flies and provides its services "all over the southeast": Alabama, Florida, Georgia, Louisiana, Mississippi, North Carolina, and South Carolina. The furthest Kent has flown is Texas but admits that he stays as busy as he wants flying regionally for fellow agribusinesses. "The hours and the seasons are long. I do not have the time to fly recreationally."
He fertilizes and sprays for potatoes in February, followed by wheat (February-April), sweet corn (March-November), Pine trees and seedling (April-July), Soybeans (June-Aug), Milo (July-October).
Weather and mechanical issues factor into Kent's decision to fly on any given day. "Flying a plane is like driving a truck to me. I don't fear equipment or engine malfunctions until they happen. When something goes wrong or the propeller stops, I don't panic— there is no time. Quick thinking and decisions determine a pilot's outcome in those situations, ya know? Emotions can hit hard upon landing when I imagine the different scenarios. He takes a long pause, "You just have to rise above that fear and climb back up the next day. Any day flying is a good day.
The Sky Is the Limit
"I have always had a passion for airplanes. But when it comes to crop dusting, I guess I just have a little crazy in me."
Kyle Sheffield, 34, of Iron City, Georgia, is a fifth-generation farmer who cultivates around 2,100 acres of row crops and runs 300 head of cattle with his grandfather, dad, and brother. "The years have been tough on us farmers. After (Hurricane) Michael, we decided we wouldn't grow cotton anymore. Going into the aerial application business made sense when I was contemplating how to diversify our operations. Idle hands ain't good for me. I prefer to stay busy."
Kyle also shared that during a visit with Kent Croom he was encouraged to pursue a commercial pilot's license. "I have always had a fondness for planes. I just needed a push, I guess." Kyle obtained his private license in 2018 from the Bainbridge Ag Flight School and obtained his commercial license from the school in Pensacola. "But it was Kent that taught me most everything. He gave me my first job and instructed me how to handle the plane. After a while, it just became instinctual. I just couldn't believe someone was going to pay me to do this."
Soon thereafter, in 2020, Kyle launched his business, Sheffield Flying Services. He currently offers aerial applications, fertilizing, spraying, "whatever the farmer might want." He operates out of a private, paved airstrip with a 50 X 100 load facility near Colquitt, Georgia on the Seminole County and Miller County line. "Efficiency is determined by how many acres you can cover and how quickly you can unload product. However, at the end of the day, I just want to do a great job for the customer."
"I started out with a Cessna 172 and then I purchased an Ag Cat. I purchased a Thrush 550 this year that holds 200 gallons of fuel and burns about 70 gallons an hour. It holds 550 gallons of chemicals. By far, it is my favorite plane. It flies smooth and is easy to maneuver. The first and last load of the day are always the best. The air is generally cooler with little interference; therefore, the plane performs as it should." During busy seasons Kyle flies from sun up to sun down but admits he still desires to grow his business and customer base in southwest Georgia. "I would like to think the sky is the limit when it comes to my career." No pun intended, of course.
On occasion, Kyle takes a few leisurely trips down to the Gulf Coast with his wife. "She worries about my safety but has gotten a little more comfortable with the idea. 'Be sure to come back,' she says. My daughter thinks it's cool. She is a little rebel." On one of his more recent challenging jobs, he videoed some of the obstacles he was presented with when flying. "I had to drop under power lines and maneuver around wind turbines. I do the TikTok thing. My wife doesn't like that too much—she is not amused."
During the interview, Kyle shared that he had answered a social media ad for the Corn Run out West and was currently in Kansas with his plane. "They needed pilots for the season so off I went." During his time in Seneca, Kansas, he experienced both a career highlight and a career low. "One day I treated a 608 acre field. The different scenery was such a welcomed change and the terrain was beautiful." Kyle then shared that he, along with several other pilots in his unit, tested positive for Covid-19. "I parked my plane and I took a few days off. But when my plane is parked I ain't making a living."
"Our business is essential to farmers and to the food, fiber and timber needed to sustain our way of life. However, every day that we go up in our planes, we are taking a risk and battling wind and other scenarios that are out of our control. At the end of day, our services are necessitated by a farmer's need to support you."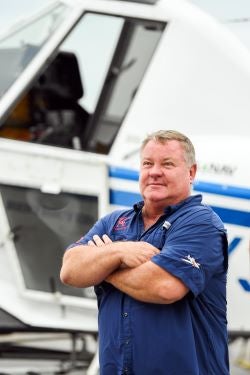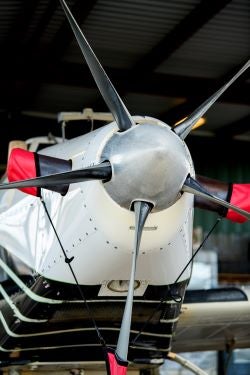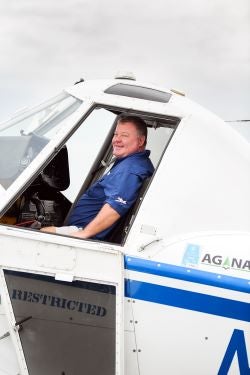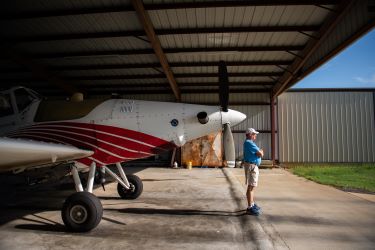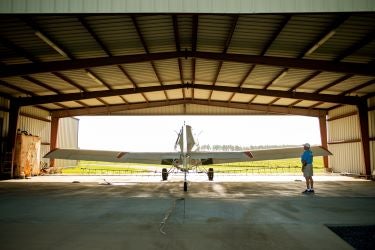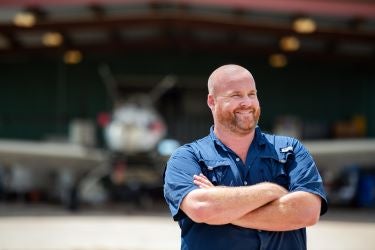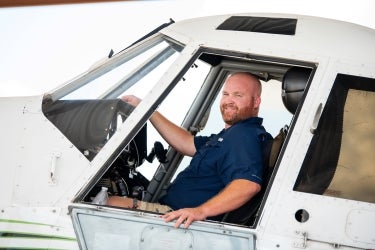 View All Articles