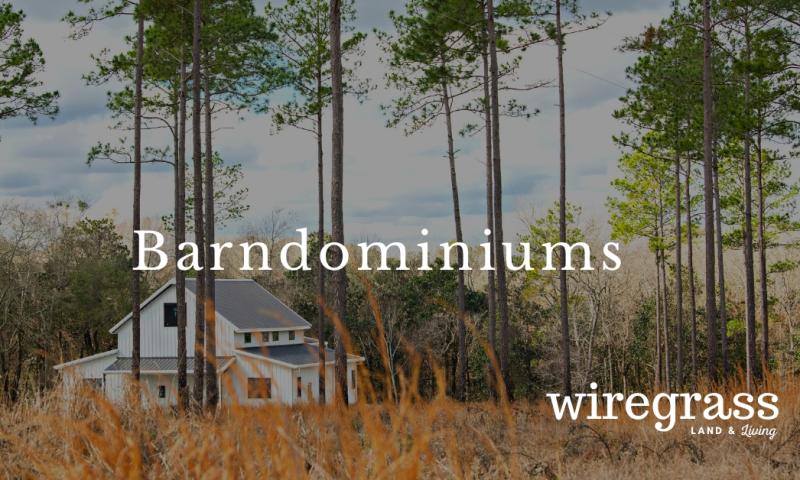 Get Your Barndo Here!
See this article in the 2023 Spring Issue of Wiregrass Land & Living Magazine!
Just over yonder, where the hill rolls gently into a valley, and before the tree line breaks, sits a mostly constructed half-barn, half-house—an ode to a simpler, quieter life, with all the expected luxury of a plantation lodge or, if you were in Colorado, say, a ski chalet. On this winter day, it's warm inside though the sky is fully exposed, beams holding the sides together, the sun warming the insides of the structure—imagination doing its part to see the fully constructed, fully decorated home come to life.
 A barn, by definition, is a large farm building, used for storing grain or hay, or for housing livestock. One definition reads: "a large and unattractive building." As in, "you moved into that barn of a house."
 Well, welcome to southwest Georgia, where our bardominiums are anything but unattractive.
 It's a Sign of the Times
Allen Corbin, a Relationship Manager for Southwest Georgia Farm Credit, notes that he gets calls every week from people pursuing a lifestyle consistent with the design of a barndominium. "Typically, you'll find a barndo on some acreage, and the buyer is looking for distinct characteristics both in the piece of land and in the construction of what will be their home," he said. "Sometimes, the buyer wants to farm. Sometimes, they want the peace and solitude that comes with a minimal floor plan and being surrounded by pasture or pines. And, there are times when we see someone who likes the idea of a barndo, but in a much more upscale sense—a retreat both in terms of style and location."
 Barndomiums are, in fact, homes built of metal or hybrid metal-wood construction, that look like the shape of a barn, and typically have residential-type doors, roofing, windows, and a porch. Often, the aesthetic is rural, country and farm-like. Just as often, you see a new take on an old-style, a fantastic open floor plan; luxurious, high-end finishes that feature sprawling entertainment areas, spa-like bathrooms, and modern kitchens.
"Building and living in a barndo is a definite lifestyle play," Corbin said. "For some, it's a very economical housing choice. Others appreciate that there is often little to no maintenance. What I've seen everyone agree on is that a barndo can be designed to be as warm and homey as you like. The options are endless."
 From Tabacco Barn to Barndo
Patsy Davis is no stranger to a rural lifestyle, having been raised in a tobacco barn on her father's farm. Patsy's farm in Grady County sprawls for acres—the trees beautifully thinned in a plantation style. Her family has owned the farm for generations. Today, she inspects her son's future home—a barndo--with delight. Layne and Audie Davis, both medical professionals, have spent the past few years researching how to build a barndo—everything from the exact type of metal building to purchase to the benefits of concrete flooring to how to marry the metal and the wood, so to speak. And, perhaps most importantly, exactly where the barndo would be built on Patsy's farm.
 Layne Davis, by his nature and profession, likes to get things right the first time. So, his motivation to understand how to build the safest, lowest maintenance barndo possible comes from that place. "We are getting older, and starting to think about retirement," Layne said. "And I just wanted something different. I didn't want to spend my time maintaining a home anymore. I never have to paint this or worry about carpenter bees or termites. And as I was learning, it just became evident to me that this is how you build a house. And this is where we need to be." Audie wasn't sold on the idea instantly. In fact, she recalls telling her husband, "I'm not living in a barn." But with learning comes understanding, and Audie quickly learned that her finishing touches would turn what is truly a metal home into a well-designed, highly functioning and easy to maintain living space.
"When I sat back to think about what I really enjoyed—I enjoy being on a tractor," Layne said. "I enjoy looking in my back yard and seeing deer and turkey. This started to make sense to me."
Finding the right builder
Layne connected with Chris King, of Kingdom Builders Construction Management Group in Thomasville. Though he had never managed a barndo project before, he and Layne got started, first purchasing the metal building and working with Jarred Garrett of Hornet Stell Buildings in Adel, Georgia. 
"I think we agreed from the start that there would be unknowns, and we anticipated there would be some issues," King said. "Nothing is sequential, like with traditional construction. We got the metal frame up, wood framing, windows in and the metal siding followed by the roof." The home features boxed in windows, a concrete floor (that had to be protected during the construction phase), and no trusses supporting the roof—meaning all of the pressure of the frame of the home goes to the outside, leaving a clean span from floor to roof. Last on the list is plumbing, electrical, and HVAC in the spacious three bedroom, two and-a-half bath living space.
"Basically, we took a conventional house plan and turned it into a metal house plan," Jackson Browning of BERS, Inc., who was in charge of all metal construction, said. "The steel took four months to fabricate, so understanding your timeline is important." 
King noted the importance of working with a metal manufacturer who has experience with specialty metal buildings. "Every piece of metal has a place to go—it's like putting a puzzle together," he said. "If there is one big takeaway from the building process it is that you should work from the bottom-up." Typically, the steel builder you choose will handle side-and-end walls, girts, purlins, anchor bolts and the roof. The contractors handle the foundation, install plumbing and electricity, and spray foam insulation.
Cost
Depending on what you choose to build, a barndo is typically more cost-effective than building a conventional house. Metal homes typically range from $120 to $140 per square foot compared to $180 to $200 per square foot for a conventional home. And, barndo owners find that their homes are energy efficient, wind-resistent, require less maintenance and plans can often be customized without an architect. Of course, how you decide to finish the barndo can drive-up costs. Audie has spent the last year deciding how the home will be finished—with plenty of storage, closets, custom cabinets and living areas—both inside and out. You should also figure the cost of prepping the land, and the land itself. Layne has spent the past two years working on the land—clearing pines and sweet gums where his nearly finished home now sits.
Financing
Finding a lender willing to finance the land and the construction of the barndo can be challenging. According to Corbin, Southwest Georgia Farm Credit is uniquely positioned to pre-qualify borrowers so they understand exactly what kind of barndo their budget can support. "Financing a barndo is similar to any other home construction process," Corbin said. "We offer a one-time construction-to-perm loan that benefits borrowers by combining construction financing and your permanent mortgage into one loan."
On the horizon
The Davis Barndominium is nearly finished. Landscaping, which will be minimal, an outdoor fireplace, and all of the work Audie has put into the small details, will come together soon. And from their living room, with the solid glass French doors leading to their own forest, Layne and Audie can spend their retirement enjoying the land where Patsy grew up—and the home that Layne built.
Enjoy this full article along with photos in our upcoming Spring issue of Wiregrass Land & Living Magazine! Coming March 30th!
View All Articles