Annual Stockholders' Meeting Set For February 21, 2023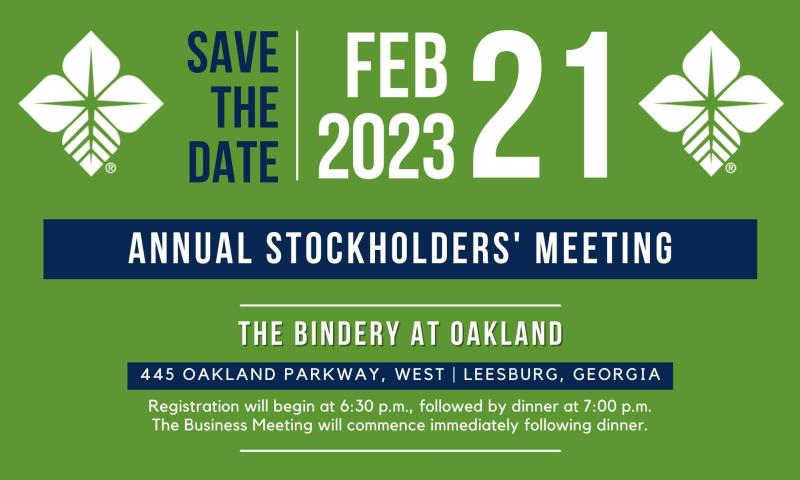 Click here to read the Annual Meeting Information Statement.
Southwest Georgia Farm Credit will host its annual stockholders' meeting Tuesday evening, February 21, 2023 at the Bindery at Oakland, 445 Oakland Parkway, Leesburg, GA.  Registration will begin at 6:30 p.m. for stockholders and their guests, and the Business Meeting will begin at 7 p.m. The meeting will include the Association's annual report from management and directors and the presentation of the slate of candidates for the Association's 2023 Board of Directors and Nominating Committee elections. The election of two Association directors and the 2024 Nominating Committee will be conducted by ballots mailed to eligible voting stockholders following the Annual Stockholders' Meeting.
Southwest Georgia Farm Credit's Board of Directors includes James H. Dixon, Camilla, Georgia; Rex LaDon Durham, Blakely, Georgia; William A. Bell, III, Climax, Georgia; John M. Bridges, Jr, Brinson, Georgia; Lee Bush, Bainbridge, Georgia; R. Eric Cohen, Whigham, Georgia; George Thomas Harrison, Jr., Thomasville, Georgia; Ted Milliron, Shellman, Georgia.
Headquartered in Bainbridge, Georgia, Southwest Georgia Farm Credit supports farmers and farm businesses, as well as rural property owners, providing safe, sound, dependable financing. The Association is part of the Farm Credit System, a nationwide network of agricultural and rural lending institutions cooperatively owned by their borrowers. Farm Credit helps maintain and improve the quality of life in rural America and on the farm, through its constant commitment to competitive lending and expert financial services.
The 2023 Annual Stockholders' Meeting

TUESDAY, FEBRUARY 21, 2023

THE BINDERY AT OAKLAND
445 OAKLAND PARKWAY, WEST | LEESBURG, GEORGIA*
Registration will begin at 6:30 p.m., followed by dinner at 7:00 p.m.
The Business Meeting will commence immediately following dinner.
View All Articles